Rights for disabled flight passengers
Comments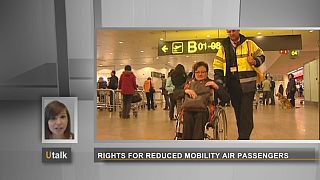 On this edition of U talk Peter from London was wondering about the rights of disabled passengers who are taking flights in Europe, he asked:
"Recently at the airport I saw a lady in a wheel chair who was refused boarding as she was not accompanied. Doesn't the EU protect passengers with reduced mobility? To whom can she complain?"
"The response came from Malgorzata Kurowska, Senior Comminication Officer with Europe Direct, she said:
"Indeed, there are EU rules on the rights of air passengers with reduced mobility that have been in force since 2007. Under these rules, airlines are prohibited from discriminating against people with reduced mobility or to deny boarding on the basis of their health state.
"However, an air carrier can refuse to embark a person with reduced mobility or to request him or her to be accompanied by another person in order to meet safety or security requirements. The air carrier must inform the person concerned of its reasons within five working days after the refusal.
"We strongly advise people with reduced mobility to contact the airline before departure and explain what assistance he or she might need.
"A passenger with reduced mobility can get free of charge assistance at airports on departure, arrival or during transit and on board of aircrafts. For example, the transport of wheelchairs and the carriage of guide dogs for the blind.
"In case an airport fails to respect these rules, a passenger can lodge a complaint with the national enforcement body in the country where the incident happened. Or when the person did not get assistance on board of an aircraft, he or she needs then to contact the authorities of the EU country which issued the operating licence to the air carrier."
For more information about the EU, call 00 800 6 7 8 9 10 11 or check out the website: europa.eu/youreurope
If you would also like to ask a question on U-talk, click on the button below.