How to unlock Europe's potential for innovation?
Comments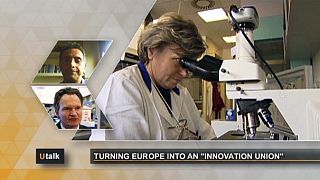 U-talk gives you the chance to pose questions about issues that matter in Europe.
Carlos from Madrid asked: "I would like to know when we will have a real European Union of Innovation? In other words, in our daily lives, at work, in the street, in the marketplace, when will we benefit from the results of research carried out in laboratories?"
The answer comes from Robert-Jan Smits, Director General of Research and Innovation with the European Commission.
"The challenge we are facing at the moment is to really make Europe a real 'Innovation Union', to make an Innovation Union which is strong, which has excellent researchers, which has good technology transfer mechanisms between academia and industry, which has strong, competitive industries and which has a good mass of skilled, qualified researchers.
"Indeed, Europe is not spending enough on research and innovation. The member states of the European Union (have) set themselves a target that they would spend 3% of their GDP by 2010. This target has not been reached. We are, at the moment, (at) around 2% and that situation needs to change. We need, really, to invest in the knowledge economy and that is the responsibility of both the member states and of the EU.
"We presented, in October, the flagship initiative called the 'Innovation Union' which is all about creating in Europe an innovation climate which allows, indeed, products to get to the market, research results to be commercialised.
"In that context, we are proposing a number of very specific measures such as the complete review of our standardisation system, a better use of our public procurement instruments. At the moment, too often, we choose the cheapest and not the most intelligent contractors. We would also like to modernise our universities so that they are fit for purpose.
"So, in other words, there are, inside the 'Innovation Union', a number of specific measures and I have not even mentioned the market for venture capital we would like to create, as well as a market for patents."