Afghanistan: on the road to transition?
Comments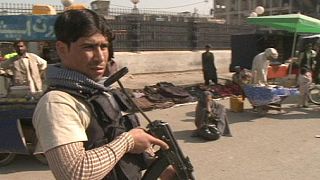 The Friendship gate: never was a crossing so ill-named for two nations whose relationship is far from being cordial, Pakistan and Afghanistan.
Every day up to 60,000 people on foot, 4000 cars and 800 lorries, plus 100 military supply trucks try to squeeze through this bottleneck to cross the border.
Euronews started the journey in Wesh, southern Afghanistan, in Kandahar province, close to the border town of Spin Boldak. It is a major trade route between the two countries; trade both legal and illicit.
"In the last two months we've found 3000 kilos of ammonium nitrate, used in improvised explosive devices, 52 kilos of explosives, hundreds of remote control devices, ready-made bombs, and 3000 kilos of hashish bound for Pakistan or Iran," says the Afghan border polce commander Saidullah Kahn.
130 Afghan police work here alongside an American regiment from the International Security Assistance Force or ISAF. The latest control methods allow most of the taffic to be checked thoroughly.
Up to 200 men go through this biometric ID centre every day. Fingerprints and irises are scanned and stored in a database. The guards are looking for Taliban suspects, or connections to them. Captures are few and far between.
"Beyond this checkpoint there's an unofficial border zone that stretches over 2000 kilometres. There are no checkpoints there, no guards, nothing to stop people or the Taliban from moving around. When they want to travel between Pakistan and Afghanistan they can, above all at night. They aren't afraid, they move at will," says Saidullah Kahn.
We were escorted by a NATO platoon. NATO wanted to show us how they are working with Afghan troops.
Next stop, Kandahar city, the provincial capital and birthplace of the Taliban.
Many insurgents are said to have found refuge here from the offensive launched six months ago by NATO in the south, which has also been supplying Taliban safe havens across the border in Pakistan.
"Highway four is one of the country's most strategic roads. It's a crucial zone for the co-operation between the ISAF and the Afghan authorities," says euronews' senior reporter Valerie Gauriat.
Making the entire road safe for trade and traffic, and supplies for NATO's bases is the key mission for the armoured division which supplied us with guides. Working with Afghan forces, they are trying to win local's hearts and minds.
Thanks to the checks made by patrols along the road attacks are now rare and trade is flowing again says a American officer of the Stryker cavalry regiment, Captain Matthew Kelley:
"Over the past 2 years, there's been a significant amount of development. It's really evident in seeing how many people are out in the street. They're walking around, going to markets, talking with the Afghan border police. And you can see, we probably have 3 or 4 more police trucks driving around here and doing their patrols. And that presence really sends the message to the people that it's safe, we're here to help protect you."
With some 26,000 soldiers out of the 130,000 deployed nationwide, Kandahar has one of the coalition's most important bases in Afghanistan. From here every night at least 40 raids are launched by US and Afghan forces against pockets of Taliban resistance.
We then visited the provincial operations centre for Kandahar. Its job is to co-ordinate anti-insurgent actions thoughout the province.
"In the past when there was an incident it was difficult to track it down. Now with our technology, new communications, mobiles, radios, we're in contact with all forces in Kandahar province. Daily reports are all centralised here. We do our best to support our elements in specific areas of incidents," says the commander of the Kandahar Operations centre, Colonel Mohammad Hashim Khugiani.
There are units like this all over the country, pulling the data together and sharing it between the civil authorities and security forces in every province.
We head off to Camp Nathan Smith, a Canadian base that is home to the Kandahar reconstruction team. It is also where Kandahar's police officers come for training.
We watch as bomb disposal teams get training in the latest methods against IED's, improvised explosive devices, one of the Taliban's favourite weapons. The police are priority targets for the insurgents, under fire almost daily, say some of them. Most come here out of uniform, in order to avoid attracting attention.
"We always worry about insecurity, we worry night and day. We are most worried about bombs, and assassinations. Insurgents are moving around downtown, nobody knows how to spot them. Many police officers were killed by insurgents.
There are many economic problems. Where I live is not safe," says Gulam Sarwar of the Afghan National Police.
One of the coalition's priorities is to train and equip the Afghan security forces as best they can. It is also a great motivation for these men who also want to resist what they see as an endemic evil, corruption.
"It's true that there is corruption in the police, because there are big economic problems here. The salaries they get from the government are not enough to support them. We can't support our families with that salary. Thanks to courses like this one, we can improve our skills, the more training we get, the better we will become. We need our police to be more qualified. But it's clear that corruption continues to exist because of the economic problems," says another police officer, Abdul Jalil.
Once again we take to the road with an armed escort. NATO's commanders assure us the town and its surroundings are now secure. It is hoped Afghan forces will be able to take over soon, but they are not so sure. The town is still hit by violence.
We visit the palace of Kandahar's provincial governor, the highest local political authoritiy. He is a close ally of President Hamid Karzai, and escaped an assassination attempt a year ago. He says security here has improved a lot, and one of the keys to lasting stability is economic development. We ask him if he has the resources for this.
"In addition to security, the next challenge we have here is the lack of professionals here. NGOs, instead of helping us, they destroyed us. Because they took the best teachers from us, they took the best employees from us, even doctors now, the engineers, they're not doing their professional job here, they're doing interpretation, because of the high salaries.
Before my arrival here, the needs were determined by the internationals, by the donors, which is wrong. The needs should come from the local governors. We have to tell them what we need. Do we need a school, do we need a hospital, do we need a road, de we need a bridge, or whatever. This is now I think resolved to a degree.
Also, we should be included in the contract process…Because the contracts were monopolised by two or three families. There are now young billionaires," insists Governor Tooryalai Wesa.
Creating as many jobs as possible is a priority for the governor, and he tries to prove it by taking us to the nearest market to see for ourselves.
Those in positions of responsibility only show themselves when something's happening criticises one man. Here, like in many other places, the politicians come in for a lot of stick, accused of making money from their links with the coalition.
After 15 minutes working the crowd, our surprise visit is over and we leave the bazaar. That night we hear of two police officers who were killed just hours after we left.