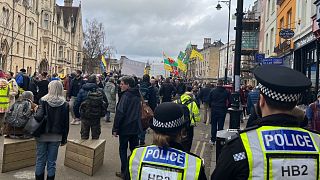 -
Copyright

Thames Valley Police
Filtering cars from city streets to reduce emissions and protect residents from harmful air pollution is a no-brainer for environmentalists.
But traffic calming measures in Oxford, England have become an unlikely flashpoint in the last few weeks, with some protesters claiming they will lead to a "climate lockdown."
The conspiracy theory concerning 15-minute cities - an urban-planning concept where people live within walking or cycling distance of everything they need - has snowballed online.
And according to a new investigation by DeSmog, an international network of established climate and COVID science deniers is pushing it.
Here's what all the fuss is about.
What is Oxford council doing to cut traffic?
"We must put people, not cars, first in transport systems." These were the uncontroversial words of the UN Environment Programme Director Erik Solheim in 2016.
For years, European cities have been trying to redress this imbalance through various measures; beefing up bike lanes in Berlin, for example, or pedestrianising Pontevedra city centre in Spain.
The Low Traffic Neighbourhoods (LTNs) scheme is a common strategy in the UK. LTNs cut the number of cars passing through residential streets by erecting barriers called 'modal filters'. It's been a feature of towns since the 1960s, but the pandemic catalysed their roll-out in London and other cities - including Oxford.
Oxfordshire County Council voted to make a few temporary LTNs permanent in July 2022 after consulting the public.
Now, in another bid to cut congestion, the county council is planning to trial a traffic filter scheme on six roads in the city next year. It will require cars to obtain permits in order to travel along these routes. Traffic cameras will be used to scan drivers' number plates, and fine those without a permit (with numerous exemptions).
Separately, Oxford City Council endorsed the 15-minute city concept in its Local Plan 2040 published in September.
In December, social media posts started to falsely conflate the ideas, with some claiming that a surveillance system would be used to restrict people to within a 15-minute radius of their homes.
Councillors began receiving a torrent of abuse, leading to a joint statement from the county and city councils debunking the misinformation at the end of the year.
But by then the theories had taken on a life of their own.
What are 15-minute cities?
The life of ideas is rarely simple, but in the case of '15-minute cities' there's a clear date for when the design concept was coined.
Paris-based urban planner Carlos Moreno discussed it during the UN climate conference COP21 in 2015, following years of research on optimising city living.
In the radius of a 15-minute walk or bike ride, the Panthéon-Sorbonne professor says, "people should be able to live the essence of what constitutes the urban experience: to access work, housing, food, health, education, culture and leisure."
"It's actually about freedom of choice," UK cycling campaigner Tom Jones tells Euronews Green.
"We're saying we shouldn't be building new housing where people then drive to buy a pint of milk, go to school or visit the doctor because there's no shops, schools or surgeries close by."
The dad-of-four adds that "A proper 15-minute neighbourhood would free my children from being hostages in our house because of all the car journeys of less than a mile or two, speeding past our front door."
As well as the convenience, safety and social arguments, there are clear environmental benefits to cutting down on car journeys including reducing air pollution and creating more room for nature.
"Why does a noisy and polluted street need to be a noisy and polluted street?" questions Moreno. "Why can't it be a garden street lined with trees?"
Things could be different - and they have been. The appeal of having amenities nearby obviously predates 2015.
Transport journalist Carlton Reid traces the ideal back through 1960s 'time geography' and 1920s 'neighbourhood units', pointing out that all cities were once walking cities.
"Even Ancient Romans blocked four-wheel traffic," he notes.
Suburbs don't need to be redrawn along 15-minute lines exactly. The UK's Town and Country Planning Association has also been proposing 20-minute neighbourhoods, pointing to the success of the principle in Paris and Melbourne.
How did 15-minute cities get caught up in the 'climate lockdown' conspiracy?
The pandemic breathed new life into the idea of "human-sized space", in Moreno's words.
But it also gave oxygen to the twisted ideas of climate sceptics who claimed COVID lockdowns were the precursor to 'green tyranny' from governments. They believe global elites are eager to constrain people under the pretext of climate change.
The 15-minute city concept got swept into this wider 'climate lockdown' trend, with conspiracy theorists presenting it as a communist plot to make people easier to control.
"Their lies are enormous," Moreno told Reid in a recent interview on this issue.
"As the UN-Habitat, the World Economic Forum, the C40 Global Cities Climate Network, and the Federation of United Local Governments, among others, have supported the [15-minute-city] concept, it feeds their fantasies that I am involved in the 'invisible leadership' of the world."
Last weekend, hundreds of people took to the streets of Oxford with banners such as 'NO TO 15 MIN CITY | COMMUNISM | WE DO NOT CONSENT." In one video shared thousands of times, a 12-year-old girl decries 15-minute neighbourhoods claiming they are "soon to become digital ID facial recognition zones."
There are valid reasons why LTNs are divisive in the UK. Shop owners have expressed concern about the impact on footfall, for example; other residents say they push traffic onto surrounding roads.
Green transport campaigners respond that people rarely wish to reverse such measures once they've been introduced. Climate charity Possible has found that LTNs actually contribute to wider traffic reduction goals.
But the opposition to Oxfordshire's traffic-calming plans is not entirely of the grassroots kind.
Who is pushing conspiracy theories about Oxford's traffic control network?
The group leading the push-back, 'Not Our Future', was conceived years ago, DeSmog has revealed. It is backed by a network of high-profile climate deniers and conspiracy theorists from around the world.
Jennie King, head of climate research and policy at the Institute for Strategic Dialogue (ISD) think tank told the investigative outlet that the pandemic was a turning point for these actors, who are exploiting the trauma that millions of people experienced.
"That trauma has been weaponised by the anti-climate lobby, who now condemn any public policy as an 'infringement on civil liberties' and draw direct comparisons with COVID."
Those campaigning for greener streets are well aware of the ways in which our roadways are getting tangled up in the culture wars.
"What we're seeing," Family ByCycle's Tom Jones explains, "is a wafer-thin but carefully calculated campaign of misinformation, intended to manipulate emotional, herd responses from people who are so terrified of being controlled, that they haven't realised it's already happened to them."