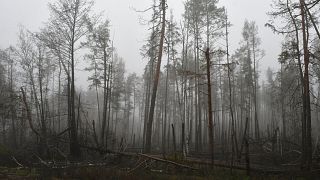 -
Copyright

AP Photo/Andriy Andriyenko
Since 24 February last year, official information shows that 1.24 million hectares of nature reserve territory have been affected by the war in Ukraine.
It has also impacted 3 million hectares of forests with 450,000 hectares under occupation or in combat zones.
To highlight the destruction caused by the war, Greenpeace Central and Eastern Europe (CEE), together with Ukrainian NGO Ecoaction have put together a map of the environmental damages. It illustrates how Russia's invasion has destroyed Ukrainian nature.
"War affects our nature just as badly as our people and our infrastructure. However, this damage remains unseen and mostly ignored, for the environment is the silent victim," says Yevheniia Zasiadko from Ecoaction.
"We want to be its voice so everyone is aware of the environmental consequences of the Russian war and so the restoration of nature is included in Ukraine`s recovery plans."
Zasiadko explains that after the war is over, people will still feel its negative impact on the environment for a long time.
"The Ukrainian government promises to rebuild our homeland - and the environment is part of what has to be rebuilt."
How was environmental damage in Ukraine mapped?
Data on severe damage was collected by Ecoaction - a task that experts continue to undertake as the war goes on. It includes wildfires caused by missile strikes and air, soil and water pollution resulting from shelling at industrial sites.
This data was later confirmed by satellite imagery and mapped by Greenpeace.
Of the almost 900 collected cases, 30 were chosen forthe map to show the most serious damage to nature. Each one is categorised by the type of harm done.
"It is complicated to map the damage caused by the war in Ukraine: much of the liberated territory is thought to be full of mines and other explosives, while Russian forces still occupy parts of the country, making data collection a challenge in those areas," says Denys Tsutsaiev, Greenpeace CEE campaigner in Kyiv.
"However, we need to bring more attention to the environmental damage so that nature restoration can be an important part of the discussion about Ukraine's future."
What needs to be done to restore nature in Ukraine?
From metal fragments of shells leaching substances into the soil that could affect the food chain to 40 flooded coal mines contaminating the groundwater, the impact is vast.
And all of this has been happening since 2014 when Russian troops first set foot on Ukrainian soil, the two NGOs say.
They believe that the reconstruction of towns needs to happen at the same time as the restoration of nature.
"Nature recovery will need tools, expertise and commitment, as well as significant funds," says Tsutsaiev. Greenpeace and Ecoaction are calling for action on mechanisms and the allocation of financial resources to do this restoration work.
"Those funds should be allocated already, not when the war is finished."