Cambodian demining experts train Ukrainians how to clear Russian mines
Comments
By Euronews with AP, Reuters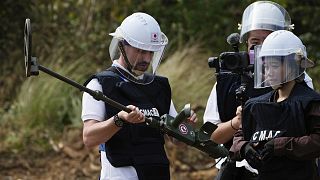 -
Copyright

AP Photo/Heng Sinith
Cambodia has the dubious distinction of being one of the countries most contaminated by landmines.
Now, a group of Ukrainian experts have come to Cambodia to learn more about how to remove Russian mines. 
Wearing protective body armour, helmets and visors, the group of 15 Ukrainians were guided along cleared routes through the former battlefield in northwestern Battambang province by trainers with the Cambodian Mine Action Centre, a government agency that oversees the clearing of land mines and unexploded ordnance in the country.
Captain Arsenii Diadchenko, who led the Ukrainian team, said the training so far has been "quick and fast" but that they were learning good lessons.
"It will be very helpful in clearing our area of Russian mines," he told reporters on the sidelines of the exercise.
Cambodia is still littered with mines after three decades of war and internal conflicts that ended in 1998, with an estimated 4 to 6 million unexploded devices still uncleared. 
The NGO Landmine Monitor, in its 2022 report, listed both Cambodia and Ukraine among the nine countries with "massive" mine contamination, meaning they had more than 100 square kilometres of uncleared fields.
In Cambodia's case, there were more than 715 sq km of uncleared fields, while the NGO has been unable to reliably verify the extent of the contamination in Ukraine.
Russia -- following its invasion of Ukraine -- and Myanmar are the only two states with documented new use of landmines in 2022, according to Landmine Monitor, while non-state armed groups have also been confirmed to be using them in at least five countries.
While Ukraine is new to demining, the problem has beset Cambodia for so long that it transcends generations.
Since the end of the fighting, some 20,000 people have been killed in Cambodia by mines and unexploded munitions, and about another 45,000 have been injured. 
Thanks to the demining and educational efforts, however, the average annual death toll has dropped from several thousand to less than 100.
Cambodian deminers are among the world's most experienced, and several thousand have been sent in the past decade under UN auspices to work in Africa and the Middle East.
'Always against a country invading another country'
Cambodian trainer Voeun Chhorvy, 23, has only been clearing minefields for a year but learned her skills from her father, who was also a deminer.
The CMAC expert told reporters said she was "proud that I can show what I have learned" to the Ukrainians.
"I'm happy that I could share my experience with them," she said.
Japan's Sato Motoyuki, a professor at Tohoku University who has been working on innovations with ground-penetrating radar, was also on hand to coach the Ukrainians on using the Advanced Landmine Imaging System he developed in his lab.
The hand-held device consists of a metal detector with an integrated ground-penetrating radar that can help deminers detect and identify buried mines.
He said the soil conditions in Ukraine and Cambodia are very different but that he has not yet been able to organise travel to Ukraine to train deminers there and that he hoped the Ukrainians would learn enough in Cambodia to be able to use the devices effectively at home.
"After they learn the very basic operation of ALIS, I think they also can think about how they can apply it in a Ukraine minefield," he said.
The Ukrainian team arrived in Cambodia on Monday and have been receiving training all week from the local deminers in a program supported by the Japan International Cooperation Agency.
Cambodian Prime Minister Hun Sen pledged in a telephone conversation with Ukrainian President Volodymyr Zelenskyy in November to help train Ukrainian demining teams. 
The offer came after Hun Sen, in an unusual move for a nation that usually aligns itself with Russia and China, condemned Moscow's invasion of Ukraine, saying, "Cambodia is always against any country that invades another country."
Cambodia was one of nearly 100 UN member countries that co-sponsored a resolution condemning Russia's invasion.
Several other countries, including the US and Germany, have already provided Ukraine with demining assistance.
In June, a group of 13 women deminers travelled to Kosovo -- another country with the experience of a recent war.
The mix of Ukrainian civilian and military personnel went through a four-week advanced course run by local trainers who cleared tens of thousands of mines and cluster bombs left by departing Serb forces and unexploded devices from NATO aeroplanes between 1998 and 1999.
Like in Cambodia, the mines Russia has planted in Ukraine are similar to those deployed in the 1990s in the former Yugoslavia, giving a helpful head start to the Ukrainian demining teams and their trainers.