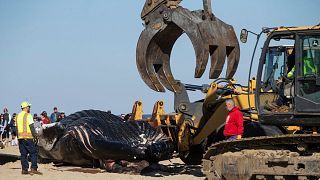 -
Copyright

Reuters Connect
At least 10 whales have washed ashore in New York and New Jersey this year - and some protestors are blaming wind farms.
"Save the whales - pause wind farms," protestors at a thousand-strong rally urged authorities on Sunday.
But is there any truth to the claim that offshore wind turbines are harming marine wildlife?
Probably not, say experts.
How many whales have washed up on America's coastline?
An abnormally high number of humpback whales and North Atlantic right whales have died off of America's northeast coastline this year.
Before 2017, whale stranding events off the Atlantic coast were rare.
Last week, a lifeless humpback whale - the ninth in 2023 - washed up in Manasquan, New Jersey. Since November 2022, 18 whales from five different species have been found dead.
Conservationists are anguished by what the National Oceanic and Atmospheric Administration (NOAA) calls "unusual mortality events".
The figure is particularly alarming given the diminishing size of local whale populations. There are less than 350 North Atlantic right whales remaining, for example.
Are wind turbines to blame for whale deaths?
A coalition of environmentalists blames wind turbines for the whale deaths.
Multiple offshore wind developments have been initiated in the area since President Joe Biden's election in 2020. There are two wind farms in operation, with seven turbines total. Another two farms are being constructed off New York and Massachusetts.
12 New Jersey mayors have called for a moratorium on wind projects pending "further investigation" of the deaths.
Environmental organisation Clean Ocean Action blames turbine construction noise, which it insists can cause damage to a whale's delicate inner ear.
"Why should offshore wind get a pass on scrutiny to ensure marine ecosystem protection, especially for endangered and protected species?" said executive director Cindy Zipf in a statement.
The focus on wind turbines has been picked up by some conservative media outlets in the US, appearing on Fox news.
However, NOAA Fisheries insists that wind turbines are not to blame.
"[T]here is no evidence to support speculation that noise resulting from wind development-related site characterisation surveys could potentially cause mortality of whales, and no specific links between recent large whale mortalities and currently ongoing surveys," it says.
What else could have caused the whale deaths?
Of the 178 humpback whale deaths investigated by scientists over the past four years, 40 per cent showed evidence of being killed by ships, or by entanglement with fishing gear.
It's not just authorities who deny the link between wind turbines and whale deaths.
Greenpeace - who have advocated for whale protection for decades - have scorned the accusations as "baseless claims".
"There has been a lot of talk about wind turbines and whale deaths, but there is no evidence whatsoever connecting the two. Meanwhile, the oceans face more threats now than at any time in history," said Arlo Hemphill, Greenpeace USA's project lead on deep sea mining,
"It's just a cynical disinformation campaign" against offshore wind power, Greenpeace oceans director John Hocevar told USA today.
High stranding rates predate the construction of wind farms after Biden's election.
In 2017, 78 whales died along the Atlantic coast of the US. 59 died per year in 2018, 2019 and 2020. 31 died in 2021, and 32 died in 2022.
Other areas with high numbers of wind farms have not seen an increase in whale mortality.