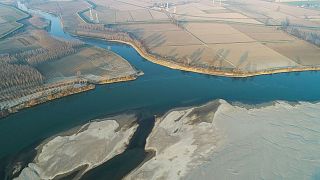 -
Copyright

Marco_Bonfanti/Getty Images/iStockphoto
Northern Italy's lakes and rivers are abnormally low after an unusually dry winter, farmers have warned.
The mighty Po River is Italy's longest waterway. Flowing from the snowy Alps to the Adriatic Sea, the Po stretches more than 650km, nourishing crops and providing vital irrigation to arable land.
But the river - and the farming communities who depend upon it - are under threat.
Last summer, record-breaking droughts reduced parts of the once-gushing waterway to a sluggish trickle. An unusually dry winter has brought little relief.
Next year's harvest could be under threat, warns Stefano Greppi, head of the Farmers' association of Pavia
"This winter has been very dry because there has been very little snowfall even on mountains, and the reservoirs are at historic lows, so the same situation as in 2022 is likely to occur again," he says.
How low is the Po right now?
The mighty Po River is currently 3.3 metres below zero gauge height - a normal dry point for the river.
The waterway is rarely this low, even in the height of summer.
There has been little rain this winter, warns Stefano Mancuso, Professor of Arboriculture, University of Florence.
"Right now the situation is typical for global warming," he explains.
"The same amount of rain falls in a year, but it is concentrated in very few days. To think that this situation can change is absolutely impossible."
The Lake Garda and Po River Basin Authority have decided to reduce water flow by 5 cubic meters per second. This will hopefully prevent the river from drying up in particularly vulnerable spots.
The river has been flowing at extremely low levels since summer 2022, when Italy sweltered through record-breaking heat and drought. It dwindled so much that the remains of a tank from WWII were revealed and the ruined walls of a medieval town emerged from the water.
The historic average flow for June is 1,805 cubic metres per second. In late June 2022, the flow measured in some parts of the river fell below an average of 145 cubic metres per second.
Seawater surged upstream, rushing in to fill the vacuum caused by dramatically low water levels. This saltwater seeped into the earth and poisoned parched crops.
What does the winter drought mean for farmers?
The vast flatlands surrounding the Po are Italy's breadbasket, boasting tracts of wheat and rice crops. The river provides vital irrigation to this land.
A lack of winter snow - which has caused ski resorts to close across the continent - will likely have knock-on impacts for the harvest next summer.
Low rainfall means farmers can't plough their land to plant seeds either.
"There are geological factors that prevent ploughing, the soil is so hard that the ploughshares can't cut through the earth," Grappi says.
Watch the video above to find out more.