Europe is experiencing a winter drought: here's what you should know
Comments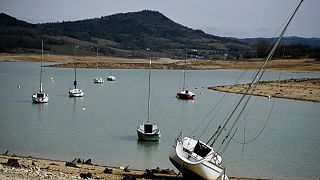 -
Copyright

VALENTINE CHAPUIS / AFP
Such scenes are normally associated with dry, hot summers -- not the middle of winter.
The banks of the Lac des Graoussettes in southwest France have been invaded by vegetation, so low are the water levels. The 32-hectare reservoir, used by local farmers and fishermen, is only a quarter full. 
The country has not seen any real rain for a 32-day period up to and including 21 February, the longest such period since records began, the public forecaster Météo-France said on Wednesday (February 22). 
A new drought would be disastrous for this region where the cultivation of apples, plums, walnuts, hazelnuts, tomatoes, strawberries, cereals and other seeds is highly dependent on water from local reservoirs.
"If we're only going to reach 50% capacity according to the most pessimistic forecasts, there will inevitably be a problem with irrigation this summer," says Stéphane Faresin, a cereal and prune producer from Agen and chairman of the local water management organisation Epidropt.
Warnings and alerts from Spain to Turkey
A map of current droughts in Europe from the EU's Copernicus programme shows warnings and alerts over low soil moisture across many southern parts in January, from central and southwest France, to northern Spain, northern Italy and southern Germany, significant chunks of northern Greece and southern Bulgaria, and much of Turkey.
"What is unusual, actually is the recurrence of these events, because we experience, as you know, severe to extreme drought already a year ago and another one in 2018. And what is really unprecedented is indeed, that is the recurrence pattern," Andrea Toreti, senior scientist at the European Commission's Joint Research Centre and coordinator for the Copernicus, European and Global Drought Observatory, told Euronews. 
Despite recent heavy rainfall across Europe, which brought severe flooding to areas such as northern Romania, the winter has brought little respite from the prolonged dry period. 
Groundwater levels have remained consistently low for several years. A study by the Graz University of Technology's Institute of Geodesy used satellite data, and information from experts in several countries to track the extent of the changes.
The results revealed that the water situation in Europe had become unexpectedly precarious. "A few years ago I would not have thought that water could be a problem here in Europe, especially in Germany or Austria. We're actually getting problems with the water supply here, so we have to worry about that," said Torsten Mayer-Gürr, one of the leading researchers.
Farmers fear repeat catastrophe
The visual impact of Europe's summer drought of 2022 -- a year indentified as perhaps the worst in 500 years -- was striking.
In Italy's Po River, a barge which sunk in World War II resurfaced, the most dramatic of several shipwrecks to emerge from the depths.
The rice grown in the Po Valley area accounts for over half of the total produced in the European Union. Yields in areas such as Pavia were decimated; other rice-growing areas suffered heavily too.
Six months on, the drought continues to bite. The Po River and Lake Garda have experienced water levels similar to those recorded in high summer.
With more dry weather forecast into the grain planting season, tens of thousands of crops are at risk and efforts are under way to prevent a repeat of last summer's catastrophe.
"In the rice sector, they are testing now new innovative agro-management strategies to basically use the water in a completely different way and avoid having these peaks during the period when also other sectors need water," Andrea Toreti told Euronews. "So adaptation is really crucial."
In southwest France, some farmers are also already adapting their techniques amid multiple battles over access to water in agricultural regions, as farmers seek authorisation to irrigate their crops.
The EU is working to enhance cooperation with different sectors to avoid competition for water use during peak periods.
"Clearly, in some parts of Europe, the lack of precipitation and the current deficit is such that it won't be easy to recover before the start of the summer," said Andrea Toreti.
With little sign of significant rainfall and an end to the drought on the horizon, the coming weeks and months will be crucial.
Watch Euronews' report in the player above.