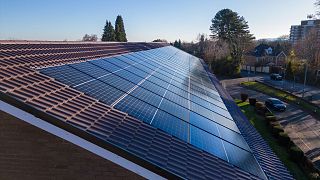 A housing block in Wales has been fitted with a 'world-first' solar system that connects all the flats to the same rooftop panels.
The residents of Odet Court in Cardiff are set to save 50 per cent off their energy bills thanks to the new technology, which can meet up to 75 per cent of each flat's electricity demand.
Australian manufacturer Allume Energy claims that its 'SolShare' model is the only technology that enables solar energy from a single rooftop system to be shared by multiple homes in the same building.
"At a time when costs are rising, improving the energy efficiency of homes will not only help us to deal with the climate emergency but also help families through the cost of living crisis," says Welsh Minister for Climate Change Julie James.
The Welsh government funded the pioneering project with social housing landlord Wales & West Housing, as part of a nationwide retrofitting programme.
James described it as "an exciting first of its kind project for Wales and exactly the type of thinking we need to see within the housing sector," as the country targets Net Zero by 2050.
Housing blocks across Europe could soon benefit from the eco-innovation. Allume Energy points out that 300 million Europeans live in low and medium rise apartment buildings with roof space for solar.
What's different about SolarShare?
People's appetite for solar panels is surging; around 1.2 million UK homes have them installed, according to the latest MCS standards agency figures.
But more is needed to speed up the solar roll-out, and make the green energy source accessible for everyone.
Allume Energy General Manager for Europe Jack Taylor says he hopes the Welsh project "will serve as a template for governments and social housing providers in the UK to [upgrade] multi-unit residences."
Odet Court has 24 flats, so without a way of connecting them, developers would have had to install 24 separate sets of panels, inverters and batteries.
As well as saving money on hardware, the company says that SolShare has boosted solar use by more than 25 per cent. The new system is suitable for retrofit projects as well as new builds, as it does not require any changes to existing supply and metering infrastructure.
How does the solar technology benefit residents?
The rooftop system has the potential to meet 55 to 75 per cent of each flat's electricity demand.
Based on the average use of 18,000 kWH to 2,400 kWh for a one-bed flat, Allume Energy estimates that this translates to an electricity bill saving of around 50 per cent. Given current average electricity costs in the UK of 34p/kWh, that means each flat stands to save between £390 to £530 (€438 to €595) a year.
That's a significant chunk off in a cost of living crisis. But there's another, structural benefit to the communal solar system.
"The SolShare system seems to be a much fairer solution as the energy generated by the building can be shared equally to help our residents to keep their electricity costs down rather than [it] going back to the grid," says Joanna Davoile, executive director (assets) at Wales & West Housing.
This gets round a major obstacle the housing association has been coming up against in recent years: "how to fit PV panels and battery systems to our apartment homes so that everyone living in the schemes could equally benefit."
"We are excited to see how the technology used in the SolShare system will work for our residents," she adds.