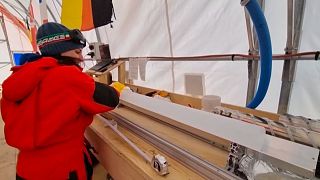 This massive cylinder of ice is a window into the past.
Scientists are collecting 50,000 year-old samples of ice from deep in the Antarctic ice-shelf.
The ice - collected from 808 metres below the surface - provides an insight into earth's climate history, revealing past greenhouse gas levels and planetary temperatures.
The mission has been "fruitful," says Carlo Barbante, director of the Institute of Polar Sciences of the National Research Council.
"The team of 13 researchers was there for about 60 days and they were able to drill down to a depth of 808 metres, far beyond the expectation that we had at the beginning," he explains.
"They could work in two shifts of about 8 hours each, from 8 o'clock in the morning to midnight, extracting ice cores of very high quality, so we are very happy for that."
How deep do the researchers plan to go?
The scientists are working as part of the European research project 'Beyond Epica.' This is their second drilling campaign in Antarctica - but it won't be the last.
Glaciologists are aiming to reach a depth of 2,700 metres (1.6 miles) where they expect to find ice that's 1.5 million years old.
Ice samples are an ingenious way to monitor earth's climate history.
Ice is formed as layers of snow build up on top of one another, gradually compressing. The snow - which contains dissolved chemicals and particulates - acts as a window into the atmosphere at the time that it fell.
For example, some ancient ice cylinders boast dark black rings - indications that the falling snow was mixed with volcanic ash after a recent eruption.
The Beyond Epica project has received €11 million in funding from the European Commission and other nations sponsoring the mission, including France and Italy.
The study, underway since 2019, will last seven years.