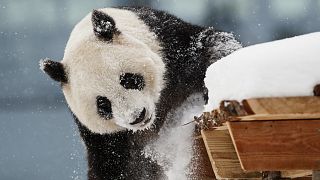 -
Copyright

Lehtikuva/Roni Rekomaa via REUTERS
A cash-strapped Finnish zoo is preparing to return two giant pandas on loan from China as it can no longer afford their upkeep.
The pandas were loaned to Ahtari Zoo in 2018 following a species protection agreement made between China and Finland. 
The private zoo hoped the pandas, named Lumi and Pyry, would draw visitors to the central Finland location. But COVID-19 travel curbs led to dwindling tourist numbers and mounting debts. 
Finland's government provided one-off support of €200,000 in 2021. Last week, a proposal for a €5 million state grant was withdrawn after receiving widespread criticism.
The decision came after some members of parliament pointed out that the amount was higher than what the country spends annually on protecting some of its own endangered species.
Why were pandas leased by China to a Finnish zoo?
The pandas were loaned to Ahtari Zoo in Finland following a conservation agreement made with Chinese President Xi Jinping on his 2017 state visit to the country.
It was hoped the pandas would have offspring, which would then be released into protected areas of the wild in China - a scheme that has been criticised by wildlife groups like WWF as unrealistic.
Under the 15-year lease, the zoo pays an annual fee to China, earmarked for species protection. Although the amount is undisclosed, it is estimated to be around €1 million. On top of this, the zoo is responsible for the pandas' maintenance costs. 
China owns nearly all the world's giant pandas and leases them to countries in what has come to be dubbed 'panda diplomacy'. In its modern form, this dates back to at least 1972 when China donated two giant pandas to the United States.
With 10 years remaining on Finland's panda lease, it remains unclear who will be responsible for payments to China - or how the return of the animals will be received.
The foreign ministry says it has established a working group to seek a solution, but added there is no certainty one will be found.
"If the pandas were returned, we believe that China would understand it would be a business decision of a private company in a difficult financial situation," says a ministry spokesperson.
"We do not believe that this would have wider effects on the relations between Finland and China."
A final decision on whether to return the pandas will be made on 28 February, the zoo says.
Why do giant pandas need protection?
Giant pandas, whose black and white faces have made them beloved around the world, are considered a vulnerable species. Threats from humans have left just over 1,800 pandas in the wild, according to WWF.
Pandas must eat between 12 kg and 38 kg of bamboo per day to survive. Much of their mountainous natural habitat in southwest China is under threat from deforestation. They also face threats from poaching, natural disasters and disease.