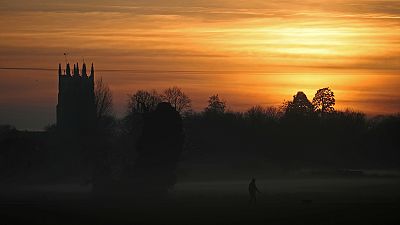 In 2018, the global temperatures were more than 1°C higher than in the pre-industrial era. Europe was warmer than average during all months of the past year, except February and March.
In contrast, the northeast of North America, some parts of Russia and central Asia experienced below average annual temperatures.
Around the world, extreme weather caused destruction and a major loss of life
In the autumn, strong tropical cyclones hit Philippines and Japan. New South Wales in Australia suffered a major drought. For months, rainfall levels remained among the lowest ever recorded.
In August, almost 500 people died after unusually high rainfall caused severe floods in the southwest Indian state of Kerala.
The autumn hurricane landfalls caused widespread damage in the US after deadly summer wildfires devastated parts of California.
Europe suffered billions in agricultural losses due to hot and dry seasons that had an unusually high amount of sunny days.
As atmospheric CO2 concentrations continued to rise, the warming of the planet remained high on the international agenda. UN's Intergovernmental Panel on Climate Change called on all nations to take urgent and effective measures to mitigate this threat.
With 2018, the last four years have been the four warmest on record.