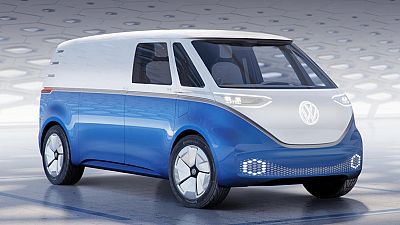 Tesla's dominance over the global electric car market is about to disappear, as industry veterans like Volkswagen, BMW, Ford and General Motors enter the next stage of their slow shift from internal combustion to electrification.
Lacking the nimble size and startup dynamism of Tesla - and not to mention its bombastic billion of a chief executive - traditional carmakers have appeared to languish in a lower league for the last half-decade.
Meanwhile, Tesla first proved electric cars could work with the Roadster, they could be desirable and practical with the Model S and Model X, and, now, that they can even be an affordable mass-market success, with the Model 3.
But, while Tesla will no doubt continue to shine brightly (assuming Elon Musk can keep his prolific tweeting in check) with future vehicles like the Model Y, Tesla Semi, a pick-up truck, and the second-generation Roadster, giants like the Volkswagen Group are poised to overtake.
To quickly recap, the Volkswagen Group owns numerous automotive brands, including Audi, Bentley, Bugatti, Lamborghini, Porsche, SEAT, Skoda, and of course Volkswagen. The company was rocked and almost brought to its knees during the 2015 diesel emissions scandal, but is now on course to electrify its fleet on a scale the world is yet to see.
Electric cars, autonomous driving and mobility services
Speaking in late-November, VW Group chief executive Herbert Diess said €44 billion will be invested into new technologies over the next five years alone. This includes electric cars, autonomous driving, and mobility services like ride-sharing platforms; €30bn of that money will be spent on electric vehicles, equal to 50% of Tesla's total value at the time of writing.
Volkswagen's electric revolution will begin with the ID, a hatchback intended to be an electric answer to the company's iconic Golf. This will be the first of several VW vehicles under the new ID brand, including the ID Buzz, an electric minivan reminiscent of those of the 1970s; the ID Crozz, a crossover SUV; and the ID Buzz Cargo, a commercial delivery van. These cornerstones of the ID range will arrive in dealerships between 2020 and 2022, with varying degrees of autonomous driving systems.
The Ionity charging versus Tesla's Supercharger network
Their driving range will be in the region of 450km to 550km, Volkswagen says, depending on the battery size chosen by the customer. They will all have access to the Ionity charging network, which is currently being built across Europe and is capable of refilling batteries with twice the speed of Tesla's Supercharger network, meaning refilling from almost empty to 80% will take about 20 minutes.
Speaking in a late-November press conference, VW boss Diess suggested that, by the start of the next decade, electric cars will be the first choice for many consumers. "By 2020-2021 it will be difficult to take a decision against electric cars, because they offer so many convincing points," he said, adding: "For those who don't drive more than 30,000km a year, electric cars will be the first choice."
Looking a little further forward, to 2025, the Volkswagen Group plans to sell 50 different fully-electric vehicles, plus another 30 plug-in hybrid options, where a petrol or diesel engine is supplemented by an electric motor and battery pack.
While the Volkswagen brand and its ID range can sweep up much of the lower- and mid-range of the market - and Porsche takes care of the luxury and sports sectors - Audi will take direct aim at the Model S and Model X. Audi said in December it will spend €14bn between now and the end of 2023 on "electric mobility, digitalisation and autonomous driving".
The E-tron, a luxury and all-electric SUV
By 2025, Audi plans to offer around 20 electrified vehicles, with half of these having a fully-electric version (and the rest being plug-in hybrids). This range will begin with the E-tron, a luxury and all-electric SUV which is available to pre-order from early 2019 for deliveries later that year.
After this, there will be the E-tron Sportback, also expected in 2019, and the E-tron GT - a luxury electric saloon shown off in concept form at the Los Angeles motor show in December, and due on the roads by 2020.
As for the future of petrol and diesel, the writing is on the wall. Volkswagen said in December that, aside from small updates to the current range, there will be no more new vehicles launched without either a hybrid or all-electric drivetrain. That is to say, from 2026 the VW Group will no longer launch cars powered entirely by internal combustion.
Speaking at a press conference in early December, VW strategy chief Michael Jost said: "Our colleagues are working on the last platform for vehicles that aren't CO2 neutral. We're gradually fading out combustion engines to the absolute minimum."
Tesla can rightly claim to have given the electric car industry the kick-start it needed. The Model S and Model X (along with Elon Musk himself) have legions of loyal fans who will likely stay with the brand as VW and others get up to speed.
But once the dealerships of traditional carmakers begin to see today's petrol and diesel drivers come in looking for a replacement, the VW Group's share of electric sales will undoubtedly soar. Whatever happens, one thing is for sure - the next decade will see as much change to the car industry as the previous 100 combined.
Writer: Alistair Charlton