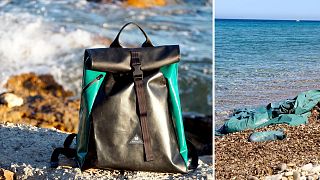 The Great Migration of 2015 saw more than two million people make the arduous and perilous journey from the Middle East to Europe.
Many arrived on European shores in rubber dinghies that were abandoned once the passengers were safely on land.
This was the start of Vera Günther and Nora Azzaoui's story. Friends from university, the two had taken extended time off from work in Berlin to travel to welcome these boats.The two friends alongside several teams of volunteers descended on the beaches of Greece.
Beyond the initial response of food, water, blankets and a warm welcome – for Günther and Azzaoui, the job was only half done. They still had the task of cleaning up the beach after the refugees had been moved to other locations on their way to Germany.
While picking up food wrappers, drink cartons and discarded blankets were easy enough, big deflated dinghies, on the other hand, were proving to be bulky and not very easily disposable.
So they cut out a section of a rubber dinghy, brought it back to Berlin and gave it to a fashion designer friend to see whether something could be done with it. The prototype came back in the shape of a handbag.
Click on the video player above to see how the two friends gave life to their ethical business eventually.