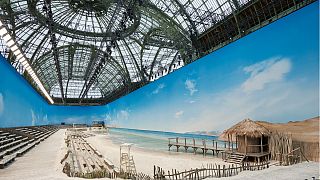 The last week of the fashion month, after the shows of London, New York and Milan, is always the most awaited one. The grand mercato of designers was in the air, with Hedi Slimane's very awaited comeback at Celine, two years after he had left Yves Saint Laurent. His show at the Invalides, entitled Paris la Nuit (Paris by Night), was held in a black cube marked with the new and neon-lit logo he had commissioned, determined to renew the brand Phoebe Philo had designed for during a decade. Two drummer boys in band uniforms were playing a roll while people sipped "Celine" champagne: the nightlife had officially started and it was clearly time for Slimane's after hours looks.
A tribute to Isadora Duncan and Pina Bausch at Dior
Paris est une fête (Paris is a party) according to Dior as well, where Maria Grazia Chiuri paid a tribute to iconic dancers, such as the legendary Isadora Duncan or contemporary Pina Bausch "who used dance as a way of breaking free", says the creative director. Israeli choreographer Sharon Eyal gave a performance throughout the show, as models crowned with strict buns and wearing nude fluid dresses over bodysuits walked around this one of a kind dancefloor.
The beach by Chanel
In a whole other dimension, Chanel's mannequins hit the beach that Karl Lagerfeld had recreated at Le Grand Palais. The German's designer scenographies never hit and miss, and this setting was definitely the most astonishing one of the week – there were actual waves. Large sleeves and pastel tweed constituted a seventies vibe reminiscing the free spirit of this decade. Chloe was very much inspired by these times too, with romantic flowery blouses, orange undertones, ocre flares, voluminous earrings, dickeys with gem ornaments, long rope belts and snakeskin mules. With barely any prints, Valentino played the monochrome card as genius Pierpaolo Piccioli reinvented the definition of "casual chic". Large hoops and an even bigger feathered hats ornamented the Italian designer's looks who focused on fabrics and the savoir-faire he masters like none of his pears.
When not walking on sand, models were literally walking on water at the Saint Laurent show, in front of the Eiffel Tower. Snakeskin santiags, mini sequin bodysuits combined with platform heels, long fluid and see through dresses were worn by Anthony Vaccarello's models who walk through dark waters with great aplomb. The press release stated: "a Saint Laurent woman is an independent, confident, carefree, liberated, bold individual who loves to have fun and express herself." Aren't we all?
Eiffel Tower printed dresses
Jon Rafman's installation for Balenciaga was spectacular in a whole other dimension. The Canadian artist, who works around the emotional, social and existential impact of technology on contemporary life, created a true "Black Mirror" vibe for Demna Gvasalia's show. Still keen on Paris, Vetement's creative director imagined Eiffel Tower printed dresses and some more souvenir sweaters tourists (and fashion addicts) never get enough of. Tailored suits gradually replaced the streetwear the Georgian designer usually showcased the past few years, but shoulder pads are certainly here to stay. Leaving planet Earth for a Star Trek atmosphere, Nicolas Ghesquière embarked on his spaceship for this Louis Vuitton Spring Summer 2019 show. Fond of the space-age vibe, the designer's futuristic vision featured an 80s touch for more best-sellers to come.
Kendall Jenner and Bella Hadid
The French capital' legitimity was once again asserted by Gucci's unique show (the brand usually shows in Milan) at the Palace theater, the most iconic Parisian clubbing institution of the 1980s, where all the fashion follies went down. Alessandro Michele's "Mai 68" hommage cycle came to an end in the festive and untamed manner he masters so well. Another uncontrollable spirit hit the Parisian roads for his "Off Track" show: fashion's current golden boy Virgil Abloh. Louis Vuitton's (men) creative director recreated a kart circuit for his Off White show in collaboration with Nike. Big on streetwear and athleisure, the American designer enlisted an Olympic cast of models walking side by side with it girls such as Kendall Jenner and Bella Hadid. This collection, he says, was inspired by his collaboration with tennis superstar Serena Williams for who he designed a few sports gears.
Cara Delevingne makes her runway comeback
No streetwear at all for Paco Rabanne. Creative director Julien Dossena is all about that bling: big chains around the neck or long pendants necklaces, paired with floral prints for a metallic yet romantic summer. Over at Balmain's, silver takes over: metallic bustiers, corsets, belts, over the knee boots – everything shines bright as Cara Delevingne makes her runway comeback for Olivier Rousteing. If you're in need of XXL accessories, turn to Jacquemus whose "Riviera" show featured ridiculously huge baskets for a trip to the beach – and they will assuredly be sold out. If you're more of a discreet person, the French designer also declined his collection of mini bags which models are wearing around their waist with bikinis.
Non-binary fashion
Accessory-wise Margiela definitely hit the spot with his ankle-attached phones: a house arrest for millenials. All things tech apart, John Galliano is definitely the most "aware" of evolutions. As the queer movement gets bigger, the designer explores "cross-dressing" in this gender fluid collection where male models walked wearing "women's clothes", in a spectacular non-binary fashion. Belgian master Dries Van Noten was a bit more traditional but in his very own way. Gems, feathers fringes and sequins are agrementing clothes and looks sparingly for the classiest of outcomes.
Hermes stayed very much true to itself as well. Nadège Vanhee-Cybulski's equestrian and saharian looks were shown on a runway of sand perfectly complimenting the brown signature leather of the two-century old brand.
Cotton from an organic farm in Egypt
Stella McCartney, queen of sustainability, was all about tie and dye, large suits, skater dresses and sexy nightgowns. "This collection is full of organic denim and jersey, traceable and sustainable viscose, and cotton from an organic farm in Egypt with women working in the community!" explains Claire Begkamp, Head of Sustainability and Ethical Trade for the brand.