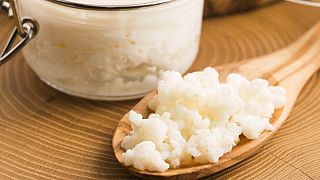 Originating from the Caucasus mountains, kefir is the drink that everyone is now talking about. The term refers to the beverages - typically animal or plant-based milk - which have been fermented using kefir 'grains' from this region.
In Europe, the interest to study its health properties is recent, but kefir has been drank throughout central Asia and Eastern Europe for generations. Living It explores the potential benefits of this beverage and how you can make it at home.
Probiotics for the health
The human digestive system is filled with millions of 'good' bacteria. Not so long ago, scientists thought that they didn't really serve any purpose, but they have now discovered that having a wide variety of these bacteria, in great quantity, is associated with health benefits. It appears to have an impact on gut health and digestion, but also to strengthen the immune system and influence our moods and mental health positively.
Taking live microorganisms known as probiotics, in the form of supplements or fermented foods like kefir, can help increase the number and the diversity of these bacterias in the gut, allowing us to enjoy these diverse health benefits.
"When you get your probiotic bacteria from food rather than a pill, the package of nutrients and bacteria are greater than the sum of taking simply a pill, which only gives you the bacteria. Traditionally-made kefir can also have a lot more variety of bacteria and numbers per serving than some of the popular cheap probiotics on the market," says Jeannette Hyde, Registered Nutritional Therapist and author of the book The Gut Makeover.
Reaping the benefits of kéfir
A number of studies has confirmed that kefir consumption is indeed linked to improved gut health and digestion. Other have shown that it might promote anti-inflammatory, anti-allergenic and antioxidant activity in the body. There has even been reports of kefir helping reduce the risks of cancer by counteracting to a degree the negative effects of certain foods - such as fried or processed food.
The problem is that a lot of the research has been conducted in animal models. When clinical trials with people have taken place, they have usually been done only with a small number of participants. Additionally, there has been no long term follow-up, meaning the effects of kefir over many years are still unclear.
One of the perhaps surprising health benefits that was identified was for people suffering from lactose intolerance. This is because a group of lactic acid bacteria called lactobacillus helps to break down lactose, thus facilitating digestion of dairy products.
People diagnosed with irritable bowel syndrome (IBS) could also stand to benefit from kefir. "IBS patients I observe usually have microbiomes which are low in diversity and lacking beneficial strains of bacteria. Feeding the microbiome the right foods, can help to correct the landscape of bacteria in the colon, and the symptoms of IBS with it," Hyde explains.
The effects of kefir on cholesterol levels have also been documented, but with less straightforward results. For example, a 2002 study carried out in 13 male subjects with slightly raised cholesterol found no effect on cholesterol after 4-week kefir consumption compared to milk, but then again, the number of participants was very small.
Considering the interest that kefir is generating and how much more accessible it's becoming in Europe, more rigorous research could be helpful. "It would be great now to see big studies happen with larger samples and randomised trials. It would also be good if this research could be funded by impartial and independent bodies - not by companies that sell kefir," Hyde says.
Making Kefir at home: the recipe
While Kefir milk and Kefir water can be bought ready-made. The problem is some of the commercialised drinks may have been pasteurised following the fermentation process, which means some of the bacteria may have been killed. The only way to make sure that's not the case is to contact the manufacturer.
However, it's easy to make these beverages at home and avoid this issue. Any kind of milk can be used - such as cow, goat or sheep milk. Other options include using plant-based milks such as coconut or soy milk.
Note that this fermentation process can last less than 24 hours or more, depending on the temperature. But you'll know it's ready when the beverage thickens and takes the appearance of a drinking yogurt.
The grains can then be filtered out using a strainer, and placed again in a new batch of milk. The kefir milk can be stored in the fridge, ready for consumption.
Not a fan of milk? You can also make kefir water. As the name suggests, the kefir grains can also be mixed with water, fruit and a bit of sugar for an alternative beverage with potent health properties. Use mineral water and as much dried or fresh seasonal fruits as you fancy for better results.
Repeat the same process as with milk, leaving the mixture to ferment for 24 hours (although here again you can also wait longer) and enjoy a different taste but similar health benefits.
Writer: Léa Surugue