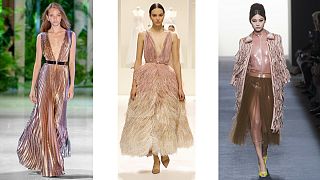 From one runway to the next, this season's Haute Couture Week underlined the diversity of womanhood. She's a soldier, a first lady, a mermaid, a flamingo, a man, but essentially, she's anything she'd like to be. Couture is made for the show and to take your breath away. It's about making what seems impossible, possible. Couture is not utilitarian. It's not meant to be worn but to be admired. Therefore, it seems absurd to point out common trends between the collections. Parisian Haute Couture week is truly about one single thing : savoir-faire.
An homage to Monsieur Hubert de Givenchy
For Jean-Paul Gaultier she's an eternal warrior on strike to "free the nipple" or armed with a riot shield. John Galliano (Maison Martin Margiela) imagined his female soldier's gear wearing several layers. Fifty years after "Mai 68", Givenchy's woman by Clare Waight Keller is hiding behind her barricade made of fabric.
The newly appointed creative director actively worked to create "an homage to Monsieur Hubert de Givenchy. She celebrated not only the timelessness of his creations but the innate elegance of the man himself and the grace with which he lived". For the Fall-Winter 2018-2019 Haute Couture collection, a few months after his founder passed away, she stayed true to Givenchy's savoir-faire. Having learned his craft by working for two celebrated couturiers of the time, Jacques Fath and Elsa Schiaparelli.
For Giambattista Valli and Christian Dior, the feathers are pink and the dresses, fatally red. "The sculptural form of a red silk dress sewn from a single piece of fabric opens the way to a series of majestic and intimate creations, both restrained and explosive: couture, in the process, becoming a psychological place of female resistance", explains Maria Grazia Chiuri, creative director at Dior.
When she's not depicted as bellicose, the Couture woman is a dark femme fatale. A deadly crow for Alexandre Vauthier, a hooded raven at Givenchy or a feathered widow for Valentino. "People long thought Couture was dead, admits Alexandre Vauthier in an interview with Numero, but it simply needs to adapt. The techniques are still perfect. We can inherit from this history, this savoir-faire, and turn it into something contemporary. Why, in this contemporary velocity, should we forget about quality?", argues the French designer.
The Couture runway redefines men's tuxedos and tailoring
Sometimes she's no longer a woman, she's a man. In our era of gender fluidity, the Couture runway redefines men's tuxedos and tailoring. At Alexandre Vauthier, she throws a cape on, puts on an oversized hat and replaces the common bowtie with a bold ribbon. At Azzaro, women glamourously show off their shoulderpads. Maxime Simoëns, Azzaro's creative director set the tone since 2017, with one main will: " to shake conventions and divert the codes while retaining the notion of elegance and refinement". Hats off. For Fendi and Dior, she's an iconic first lady, with a touch of both Jackie O and Grace Kelly.
On the odd occasion, she's no longer human nor animal. She's a mythological mermaid at Fendi or a nymphal version of mother nature at Valentino. When reflecting on his creations, Pierpaolo Piccioli, creative director at Valentino asserts that "no innovation can exist without a profound knowledge of tradition. At the same time, I know that the sense of limit that springs from this awareness gives you the freedom of thinking of how to trespass it".
It's behind closed doors that the magic happens. Past the gates of the Hôtel Caraman, at 3 Avenue Georges V in Paris, Hubert de Givenchy passed down a unique know-how to his artisans, some of whom still continue, thirty years after the founder's retirement, to perpetuate his tradition within the House's atelier.
"The ateliers are temples, guardians of thought and ideas. Couture is an example of the avant-garde, an art form that develops through imagination. A reflection that cultivates the boldness to repeating codified gestures while seeking to challenge and overturn them. Because couture today is, above all, a conceptual gesture", concludes Maria Grazia Chiuri.
Writer: Inès Bouchareb