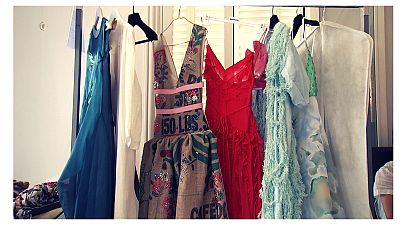 During Paris Fashion Week, when Haute couture invaded the French capital's most glamorous sites, a handful of young designers presented their latest eco-conscious creations a few blocks away from the biggest shows.
The Green Carpet Challenge 2018 – Emerging Designer of the Year Award comes at a time of growing awareness of the footprint of the global fashion industry, worth 2.4 trillion dollars a year according to consultancy firm McKinsey.
Research published in November by the Ellen MacArthur Foundation, set up by the record-breaking sailor, found that less than one percent of clothing is recycled and that half a million tonnes of plastic microfibres are released from washed clothing annually, equivalent to more than 50 billion plastic bottles.
Click on the video above to see the next generation of fashion designers' eco-conscious creations.
Stay tuned for more videos about fashion, culture and travel around Europe on Living it.