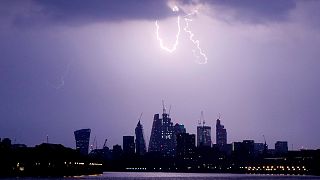 May temperatures were above average across most of the globe, with only a few major exceptions including Greenland and northern Canada.
Sea ice cover in both the Arctic and the Antarctic was much below average.
In Northern Europe, May was relatively dry but thunderous due to record heat, severe thunderstorms produced hundreds of thousands of lightning strikes, causing deaths and injuries in several countries.
The southern part of the continent, however, was soaking wet with heavy rain on the Iberian peninsula as well as in France Italy and Greece, damaging crops.
After last year's dry conditions, the rains have remained in force on the Iberian peninsula. The month was also much wetter than average in France, Italy and Greece damaging crops.
In Europe as a whole this has been the warmest May on record, 2.5°C above average, with temperatures particularly high in the north breaking century-old records in Norway and Sweden