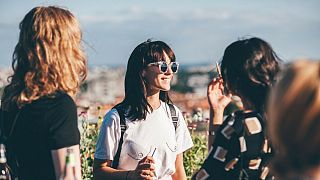 Zagreb's residents call the collection of streets located east of the Croatian National Bank and south of Vlaška Street, Martićeva, after its main thoroughfare. This neighbourhood used to be home to shops selling auto parts, car dealerships and hardware stores, many of which lowered their shutters and closed for good in the '90s.
In more recent years, the empty shopfronts and abandoned buildings have gradually been taken over and injected with a new creative energy. Designers, architects, artists and other creative entrepreneurs have opened design and architecture studios, art galleries, concept stores, as well as cafes, bars and bistros.
These share space with other everyday businesses like grocery stores, bicycle shops, bakeries, dry cleaners, fabric and haberdashery shops, and health food stores – a streetscape that reveals this is still very much a residential district.
New architecture studios, art galleries, and concept stores
The neighbourhood is also home to a few well-known architectural landmarks, like the ten-storey 'wooden skyscraper' by Drago Ibler and the colourful, modernist 'Vitić skyscraper', named after the apartment building's architect, Ivan Vitić.
A Martićeva landmark is Booksa, a literary club and the neighbourhood's first cultural space for book lovers. Open since 2004, this library and café feels a lot like a co-working space during the day, while at night there are events like book readings, lectures and workshops.
Mika Buljević, one of the founders of Booksa, says that the neighbourhood's population has not changed much in what has always been one of the city's more upmarket districts. But its appearance certainly has.
"Before, people would come here to shop for car tires and now it's for designer furniture or health food," she says. "Now there are more fashion and creative businesses that have popped up and young people are coming here to work in creative industries. The neighbourhood has become a lot more dynamic, also thanks to its many bars and restaurants where people come to socialise."
Slow living and shopping
Compared to the bustle and crowds of the city centre, life noticeably slows down here. Some business owners embrace the unhurried pace and have created spaces made for lingering.
At Garderoba a Scandinavian-inspired fashion boutique on Martićeva Street, customers are served a glass of sparkling wine and the spacious fitting rooms are fitted with sofas so that friends can lounge and have a drink together while trying on clothes.
"I wanted to be in a neighbourhood outside the busy city centre because I want to offer a slow shopping experience," says Ana Ivančić, a former corporate CEO turned entrepreneur who opened Garderoba just over a year ago. "Zagreb was missing a boutique offering something between haute couture and high street brands. Our collection includes fashion by Danish and Swedish designers and creations by local designer Ivana Omazić."
Shoppers are also welcome to linger with a cup of coffee or tea while trying out the stylish sofas at the roomy light-filled space on Antun Bauer Street occupied by Prostoria, a well-known Croatian designer furniture brand.
And there's no shortage of cafes and bistros to people watch and idle the time away. A local hot spot is Noel Bar which many locals still call Blok Bar – the original name given to it because of its box-like design. Its open air terrace on the corner of Tomašića and Lopašićeva is a popular hang out, while other firm favourites on Martićeva Street are Mr. Fogg  – Croatia's first Steampunk bar, and Program Bar.
Design District Zagreb Festival
Ira Payer is a local designer who came up with the idea to celebrate the district's unique creative vibe. "I grew up in this neighbourhood, moved away, and then came back," she says. "So did a lot of my school friends. I had the idea to have an event for all the creative people here to open their offices and studios and present their work and offer workshops as part of an open door day. When I spoke to them about it, they had lots of other ideas so together we decided to create a four-day festival."
Since its inception in June 2016, the four-day Design District Zagreb festival has been showcasing the creative incubator this neighbourhood has become while using its urban spaces in innovative and new ways.
This year's theme is 'local pathways', a series of events open to residents and non-residents of all ages. Streets will be closed to traffic and open to pedestrians and cyclists to explore public spaces transformed into art venues.
A series of cultural events, including an exhibition on the city's old cinemas, will be held at a disused military hospital on nearby Vlaška Street, while Ratkajev passage will be transformed into an open air design market.
Literary and cultural event
Booksa will be staging a series of outdoor literary and cultural events in the small park just opposite its doors, including a book fair featuring small publishers, talks with prominent writers, a creative writing workshop and concerts.
A regular feature is the 'Hacking Ikea' competition held in collaboration with Ikea Croatia where participants take Ikea products and transform them into new objects and artistic creations.
Now in its third year, this four-day-long celebration has forged the identity of the Croatian capital's most dynamic and creative neighbourhood. Martićeva has become Zagreb's Design District. The new name is here to stay.
Writer: Isabel Putinja
Follow Isabel@IsabelsWindow 
Design District Zagreb festival, from 14 to 17 June 2018.