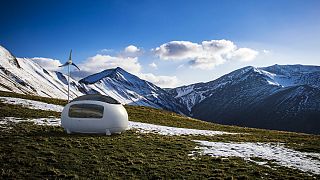 The first series of this self-sustainable mobile micro-home is already under production, however, the concept seems quite futuristic.
The Slovak company **Ecocapsule**® aimed to create a completely independent and self-sustainable unit. It has a smart home system and is controlled by an app. The mobile micro-home uses solar and wind energy, but can be charged by using electricity as well. It can also harvest rainwater, as well as filter water from natural sources.
It allows people to live far from civilization, practically anywhere. The unit can be used as a house, caravan, houseboat, hotel, research station, states the company.
The first finished unit has been shipped to a customer in Japan, right after it has been presented to the public on the 31st of January 2018 in Bratislava.
The first, exclusive series, limited to 50 pieces, is intended to be produced this year, for customers from the USA, Japan, Australia and EU.
"At the beginning of the next year, we want to launch the production of the second, more affordable mass-produced series, which will be available globally", said the co-founder and current CEO of the company Tomáš Žáček.
However, the company still needs further investment to realize the mass-production. The investment process is run by a Czecho-Slovak crowd-investment platform called Crowdberry.
Writer: Doloresz Katanich
Images: ©Ecocapsule Holding