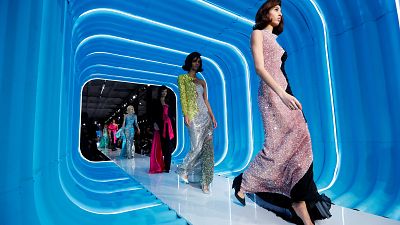 From flight attendant-inspired designs to bright tartans and leather, Milan Fashion Week presented a colourful mixture of creations once again.
Some of the big names managed to surprise the fashionista audience; Dolce & Gabbana sent drones to the catwalk whilst Gucci sent some models carrying replicas of their own heads.
Some designers targeted the powerful woman, some followed the romantic style.
Giorgio Armani stayed true to his deep-rooted classicism, whilst Max Mara dedicated its latest collection to the confident woman, finding a new way to dust off its stronghold: the overcoat.
References to current political issues were easy to spot, such as Antonio Marras' show about an imaginary voyage to the New World that echoed the migrations of today.
However, Milan Fashion Week is over, but the city's Palazzo Reale museum is exploring the history of Italian fashion through iconic items such as Fendi's 'Baguette' bag, Tod's 'Gommino' loafers or the Max Mara 101801 coat.