From Rose Bertin to Sofia Coppola, this is Versailles' dresses and dreams.
"Marie-Antoinette is Chinese, Japanese, American… The myth of Versailles is global and everyone interprets it differently," explains historian and fashion journalist Laurence Benaïm. She is the author of Fashion and Versailles, a coffee table book, released this year in French and English by Flammarion.
"It's a book of connections in which film director Sofia Coppola meets designer Christian Dior, Christian Lacroix appears next to the Countess du Barry and Hélène Rochas faces Yves Saint Laurent," she describes. One year of work to compile, select and bring together a diverse iconography, tracing back the multiple stories of Versailles, seen through the prism of clothes and accessories.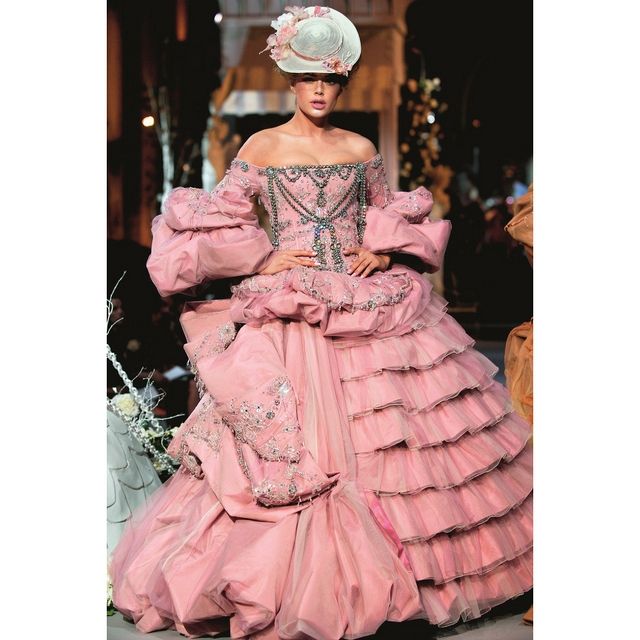 Doutzen Kroes modeling a dress in the Christian Dior haute couture Fall/Winter 2007–8 collection by John Galliano, presented at Versailles. | © Chris Moore-Catwalking-Getty Images – Fashion and Versailles – Flammarion
Altogether, it's a rich and documented network inviting the reader to navigate through the ages. For example, the silhouette below, spotted on the catwalk of Louis Vuitton Spring Summer 2018 collection is inserted between a portrait of Marie-Antoinette by Vigée-Lebrun and a black and white photograph of Roger Schall for Vogue Paris from 1938. The selection happened "naturally" and "where I found associations" explains the author.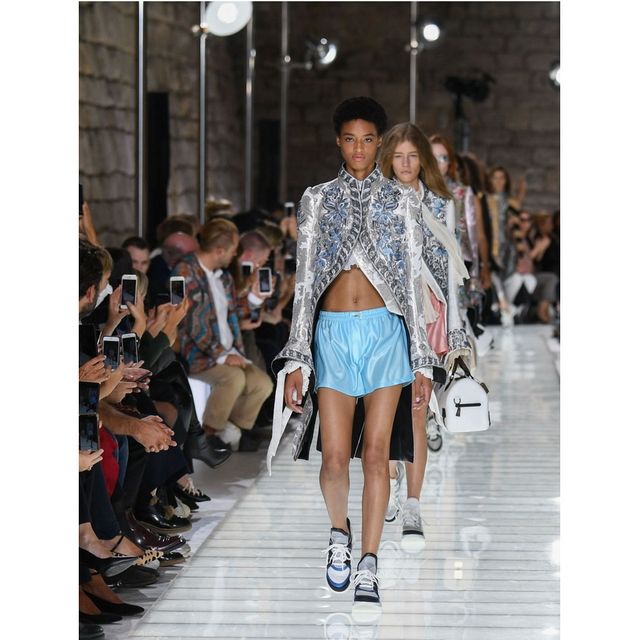 The habit à la française revisited by Nicolas Ghesquière for the Louis Vuitton Spring/Summer 2018 collection. | © Stephane Cardinale-Corbis-Corbis via Getty Image – Fashion and Versailles – Flammarion
"In today's world, dominated by images, I find it interesting to show that we can find depth behind them whether they are photographs, sketches or watercolour fashion illustrations. They are there to support a thought and not to simply look pretty," sums up Laurence Benaïm.
Among the pictures, there are sketches made exclusively for the book by Bruno Frisoni and Christian Lacroix, and a drawing by Karl Lagerfeld made for Stiletto magazine when Benaim was director of publication. It is also a plunge in the written archives of Versailles by those who lived there and made its fame, such as publication Le Mercure Galant (1672 – 1724), Marquise de Montespan and Rose Bertin, personal headdresser and seamstress of Marie-Antoinette.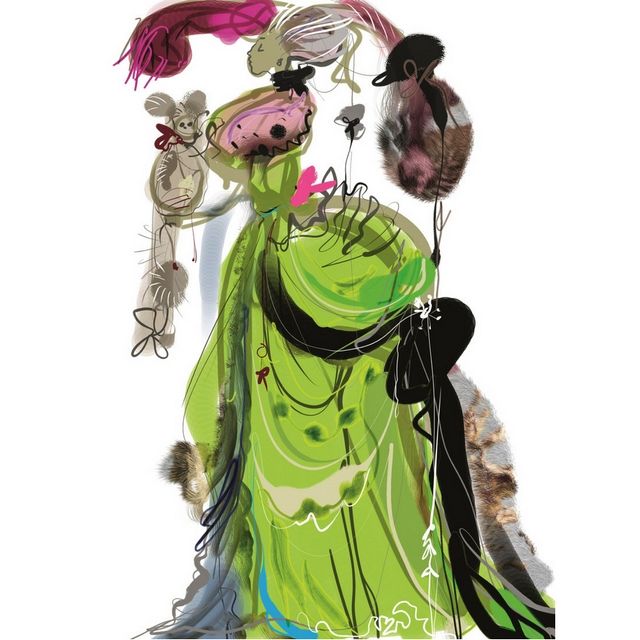 Sketch by Christian Lacroix, c.1990. | © Christian Lacroix – Fashion and Versailles – Flammarion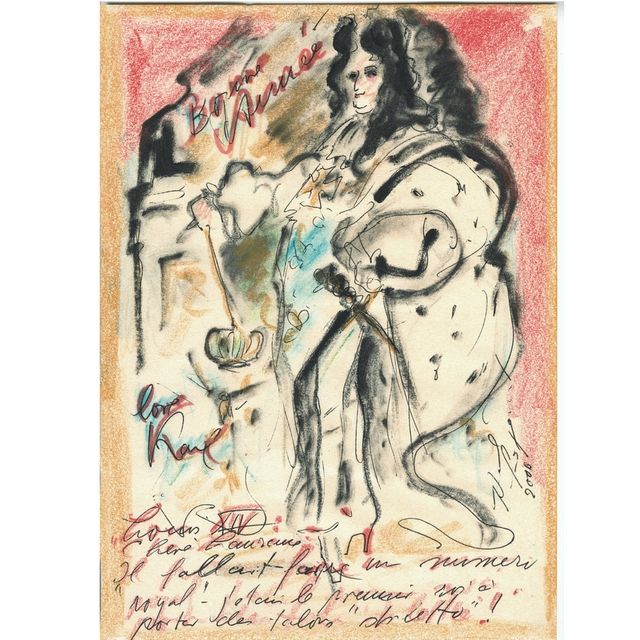 Sketch by Karl Lagerfeld, a new year's greeting for 2006 to Laurence Benaïm; Collection Stiletto, Paris. | © Karl Lagerfeld- Fashion and Versailles – Flammarion
"We always have this image of Versailles as a place of frivolity but nothing has been more documented than fashion at Versailles. It has been the topic of speeches, studies, documents and dress codes," explains Laurence Benaïm. "From the day the Duke of Orleans, Louis XIV's brother, went to the Innocents' Market, where the slaughterhouses were, and returned with soiled and blood-stained feet, the red heel became fashionable. A detail that we find again in the famous portrait of Louis XIV by Hyacinthe Rigaud."
Next to the pictures, texts recall how a micro-event could launch a trend or news became the name of a particular colour. The terms used to describe the different objects of fashion were sometimes very poetic but mostly full of eccentricity. Among our favourites is the "doe's belly" yellow, a sombre shade called "London soot" and the nuance "opera brûlé" after the fatal conflagration that destroyed the Paris Opera House in 1781.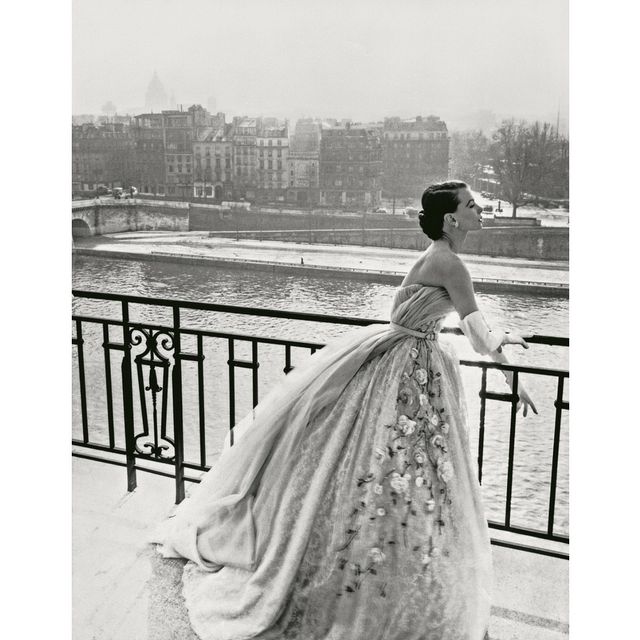 A delicate confection of pale gray lace and pale pink roses cascading from waist to floor, by Pierre Balmain, 1953. | © Gleb Derujinsky – Fashion and Versailles – Flammarion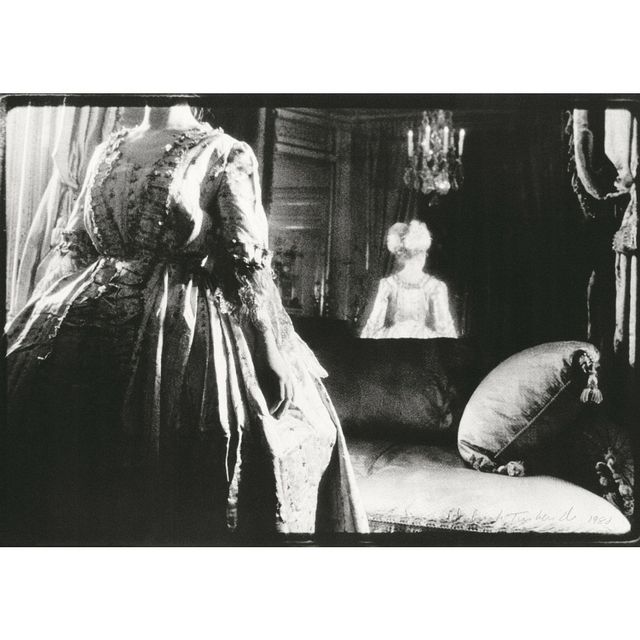 Photograph by Deborah Turbeville for Unseen Versailles, a photographic project commissioned in 1980 by Jackie Kennedy Onassis. | © Deborah Turbeville, Unseen Versailles
More than seven million visitors a year and thousands of pages of history books have not weakened the curiosity for Versailles. A place that is simultaneously precursor of trends, source of inspiration for designers, and location for today's fashion photo shoots as Laurence Benaïm explains in her new book, proving that the castle and its gardens are never out of fashion.
Fashion and Versailles by Laurence Benaïm, Flammarion, 2017.