Since 1936, Maison Michel has been producing stylish headpieces.
Over the past hundred years, Maison Michel has imagined hats that are anything but an accessory. A reflection of its period, a dialogue with trends, a product that evolves as rapidly as the head it will dress: this is the mission of a fashion-house with a savoir-faire unaltered since its creation in 1936, yet constantly re-envisioned.
As a part of Chanel's Métiers d'Arts houses, Maison Michel collaborates with a selection of prestigious brands; since 2006, it also offers its own eponymous label characterized by the most cutting-edge creative approach.
Priscilla Royer, as its Creative Director, engages in a pragmatic reflection reaching beyond the hat to the head that carries it, geared towards the individual and his or her style.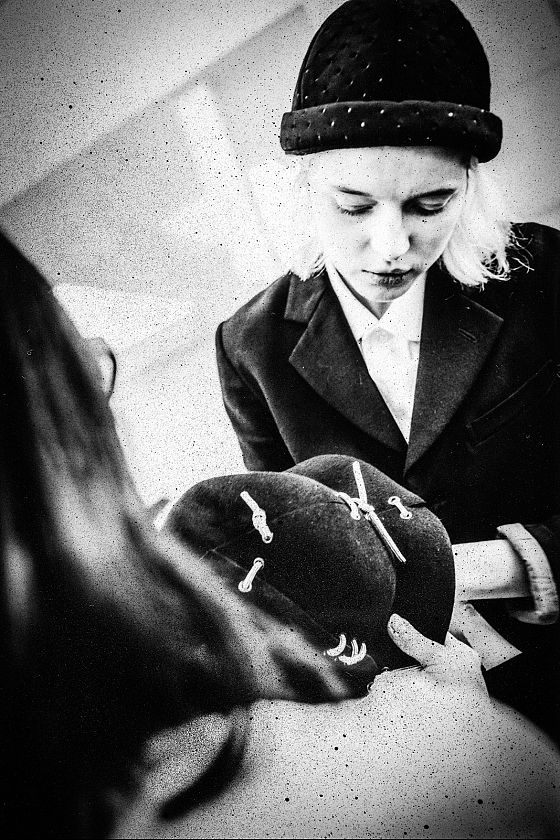 Priscilla Royer
The aura of Maison Michel is carried by strong personalities – feminine as well as masculine—, products that combine innovative technologies, alternative cultural and historical references, wearability and attitude.
At the Parisian ateliers, vocabularies are turned on their heads, and norms are shaken up. This way, Maison Michel perpetuates what hats have always achieved: to be a frame as well as a celebration of all faces.
1936: THEORIGINS OF MAISONMICHEL
Auguste Michel opens his hat shop at 65, rue Sainte-Anne in Paris. At the time, women went to fashionable milliners and men to hat-makers for their headgear.
THE 1960's: THEEMERGENCE OF READY-TO-WEAR
The post-war period saw a dramatic change in social behaviour and in the way people dressed, with ready-to-wear gradually replacing the bespoke tradition.
THE 1980s MAISONMICHEL, THEPRIVILEGEDPARTNER OF HAUTECOUTURE
Haute Couture reigns over ready-to-wear, dictating the era's fashion attitudes and trends. Maison Michel is in its element among a network of highly respected ateliers flexing their expertise.
1997: MAISONMICHELJOINSCHANEL'S MÉTIERS D'ARTPORTFOLIO OF SPECIALTYATELIERS
Chanel, long dedicated to safeguarding Parisian know-how, acquires Maison Michel. Pierre and Claudine Debard retire in 2002.
2006: MAISONMICHELLAUNCHESREADY-TO-WEAR
Maison Michel launches its eponymous diffusion line under Laëtitia Crahay while remaining the official supplier to the major luxury houses, along with a separate bespoke service for VIP clients.