A campaign for ethical and sustainable supply chains has hit the European Parliament.
More than 13 thousand people signed a petition delivered to the European Parliament that called for improved conditions for workers in the footwear and clothing industries.
Bad conditions for workers in tanneries and shoe factories are transnational problems.
Millions are facing human rights violations, low wages and health risks due to chemicals used in the production process (chromium (VI) or hexavalent chromium), in all parts of the global supply chain.
By signing the petition "Tell us who made our shoes", 13,606 people called for transparency and concrete steps to ensure better human rights for workers in the global shoe and leather industries.
On Monday, NGO coalition Change your Shoes, supported by the Clean Clothes Campaign, delivered the petition to the European Parliament.
The organisation also discussed demands, which included: – The EU should make companies disclose names and addresses of their suppliers and subcontractors. – Companies should report their activities on an annual basis, to address human rights violations in their supply chains. – Revising of the EU directive 94/11/EC to indicate on labels if the leather was chromium tanned or naturally tanned.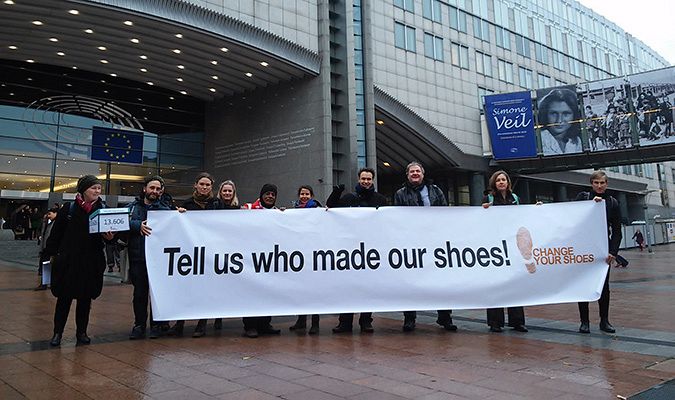 The reality of shoemaking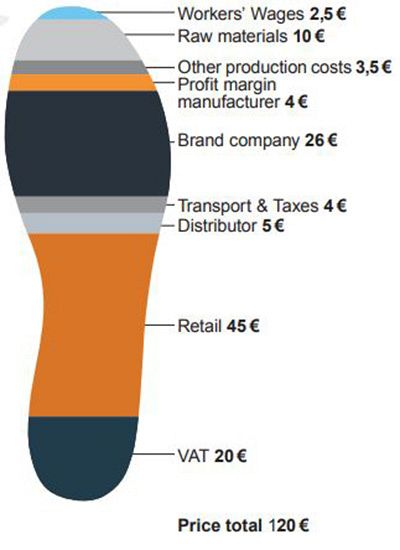 The Change your Shoes published its own price analysis of a sneaker in this report.
In Bangladesh, "exposure to glue and other harmful substances is causing serious health problems, especially for women," said Rokeya Rafique from Karomjibi Nari, an NGO working with female shoe factory workers in Dhaka.
On the other hand, a trend has emerged in which production has returned to Europe, particularly Eastern Europe.
The Clean Clothes Campaign, a coalition of NGOs working towards fair conditions in the garment industry, published a report earlier this month which found that, despite doing overtime, many workers in Ukraine made just €89 a month, which amounts to one-fifth of the country's living wage.
In Italy, subcontractors often pay a wage which falls far below the national living wage, according to the report.
It also found that the label "Made in the EU", which is supposed to promise high-level workmanship, often covers up low-cost production in Ukraine, Serbia, Hungary and Albania.
Another report found workers in and around Istanbul complained about wages did not meet their needs, unsatisfying protection against health and safety risks and an increase in informal employment.
In 2017 all three major European institutions (European Parliament, European Council and the European Commission) voiced their concerns about human rights violations in the garment and footwear sector and called for more action. Now Change your Shoes is calling on the EU for concrete steps.
How can I be responsible when buying shoes?
Change your shoes says footwear is now becoming part of the 'fast fashion' trend, they are designed to be replaced shortly after being bought.
In 2014, €23.5 billion was spent on shoes in the EU.
In order to be a responsible consumer people should ask their favourite shoe brands to be transparent and make their suppliers public, they can also buy chromium-free tanned shoes.
Above all, the NGO advises shoppers to buy fewer shoes and purchase more responsibly.
Another option is to buy products with the European ecolabel or national ecolabels that guarantee minimum social and environmental standards.
In the next few weeks, Change your Shoes and the Clean Clothes Campaign will publish their better practices report, highlighting positive examples of companies and initiatives that are already taking the right steps to combat the exploitation of workers.