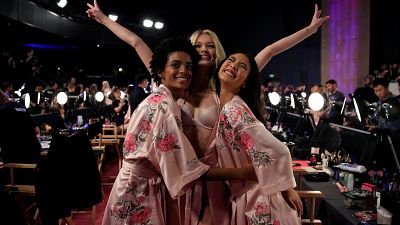 The annual fashion show hit the runway for the first time in China.
The modeling world's biggest names were gathering in Shanghai backstage at the Victoria's Secret Fashion Show on Monday.
Models, including Adriana Lima, Sanne Vloet and Roosmarijn De Kok were seen taking selfies, goofing off and having their make up done hours before the show.
Model Adriana Lima said:
"Really, this is the biggest fashion show that we ever had, in every aspect of it. We are going to have 3,000 people watching the show. The stage and the runway is bigger than ever."
The show, blends fashion, fantasy and entertainment and has featured scores of supermodels, celebrities and musicians since its inception in 1996.
Some of the company's "angels" and star names are missing though, including model Gigi Hadid and pop singer Katy Perry. Rumours ahead of the show suggested visas were being denied over political sensitivities and strict controls around the Shanghai event. A spokesman for China's Foreign Ministry said he did not know any of the details of the situation.