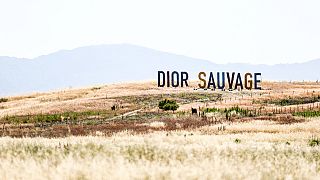 As more and more fashion shows become experience based, houses pour their money into resort shows, trying to make them stand out amongst the crowd. So far in Resort 2018, we have seen some of the most extravagant shows yet. Stick with us for an overview of all the best and most luxurious locations…
CHANEL

–

PARIS
Almost every Chanel fashion show since Karl Lagerfeld's tenure begun has been set in a dazzling backdrop. Inspired by Ancient Greece, Resort 2018 was no different. According to the show notes, Lagerfeld could not find a suitable location in Greece, so decided to recreate Greece in Paris. He turned the Galerie Courbe at the Grand Palais into a replica of the Temple of Poseidon.
This year's show, named 'The Modernity of Antiquity', "had nothing to do with a country. Reality is of no interest to me. I use what I like. My Greece is an idea" said Lagerfeld in the notes given to guests.
DIOR

–

CALABASAS

IN

THE

SANTA

MONICA

MOUNTAINS
Inspired by Christian Dior's trip to LA in the 1940s, creative director Maria Grazia Chiuri wanted to recreate some of the true wonder of California, and move away from the focus on Hollywood. The show took place in the desert, and guests were driven along a track to get there and given Dior-inscribed blankets on arrival.
Blogger Chiara Ferragni congratulates Maria Grazia Chiuri on the show…
LOUIS

VUITTON

–

KYOTO
Fashion editors who had come for the show were taken to the Miho museum, and shown through a metal tunnel that lead to the crisp white catwalk. The modernity of this hidden museum is a contrast to the traditional culture found in many parts of Japan. "I have always been amazed at the contrast between how they preserve the patrimony and history of Japan here, while also being very forward-looking and very advanced technologically" said Ghesquière after the show.
As with all the big fashion shows, the attendees at Louis Vuitton were a mix of celebrities, bloggers and influencers, including fashion writer Susie Bubble.