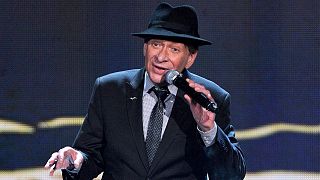 Singer-songwriter Bobby Caldwell has died at the age of 71 after a long illness.
Caldwell was best known for his 1978 hit 'What You Won't Do for Love' which reached the top 10 on Billboard and made his self-titled debut album go double platinum.
His wife, Mary Caldwell, announced the news on Bobby's Twitter, writing: "Bobby passed away here at home. I held him tight in my arms as he left us. I am forever heartbroken. Thanks to all of you for your many prayers over the years. He had been "floxed," it took his health over the last six years and two months. Rest with God, my Love."
The singer/songwriter hadn't been able to walk for about 5 years as he coped with painful bouts of neuropathy. Last year, it was revealed that Caldwell had a bad reaction to a prescribed antibiotic in 2017. The term 'floxed' describes when a person's body sustains mitochondrial damage and oxidative stress after taking the antibiotic fluoroquinolone.
Caldwell was born in New York and grew up in Miami and got a big break as a guitarist for Little Richard.
While the artist would never hit the same heights as his hit 1978 song later in his career, his cultural footprint grew as hip-hop producers latched onto his sample-friendly spin on soul and jazz.
Caldwell's music has been sampled hundreds of times. Several artists like The Notorious B.I.G., J Dilla, Aaliyah and 2Pac were among legions of artists to record songs sampling 'What You Won't Do for Love.'
The song was also covered by Boyz II Men, Snoh Aalegra, Michael Bolton, Jessie Ware, and many more.
Ware payed her respects online:
"What a loss. Sampha and I covered 'What You Won't Do for Love' and I was lucky enough to be invited to sing on his last record. I never met him, but I feel very honoured to have been on a track with him. I will be belting out 'Open Your Eyes' today and remembering the legend," she wrote.
Caldwell also wrote songs for the likes of Neil Diamond and Roberta Flack, and wrote the 1986 hit tune 'The Next Time I Fall' for Amy Grant and Peter Cetera. His last record, 'Cool Uncle' was released in 2015.