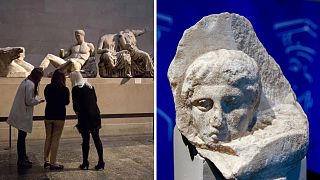 The Vatican and Greece are finalizing a deal for the return of three sculpture fragments from the Parthenon that have been in the collection of the Vatican Museums for two centuries.
The fragments are expected to arrive in Athens later this month, with a March 24 ceremony planned to receive them.
The Vatican has termed the return an ecumenical "donation" to the Orthodox Christian archbishop of Athens and all Greece, not necessarily a state-to-state transfer. It nevertheless puts pressure on the British Museum to conclude a deal with Greece over the fate of its much bigger collection of Parthenon sculptures.
The British Museum has refused decades of appeals from Greece to return its much larger collection of Parthenon sculptures, which have been a centerpiece of the museum since 1816.
Earlier this month, however, the chair of the British Museum said the UK and Greece were working on a deal that would see his institution's Parthenon Marbles displayed in both London and Athens.
The 5th century B.C. sculptures are mostly remnants of a 160-meter-long (520-foot) frieze that ran around the outer walls of the Parthenon Temple on the Acropolis, dedicated to Athena, goddess of wisdom. Much of the frieze and the temple's other sculptural decoration were lost in a 17th-century bombardment, and about half the remaining works were removed in the early 19th century by a British diplomat, Lord Elgin.
Athens argues the sculptures were taken illegally when Greece was under Ottoman Turkish occupation and should be returned for permanent display beside the other surviving Parthenon sculptures that are in the Greek capital's Acropolis Museum.
The British Museum insists it will not break up its collection, but there has been a change of tone recently as museums around the world seek to address concerns about the way ancient artefacts were acquired during periods of imperial domination and colonial expansion.