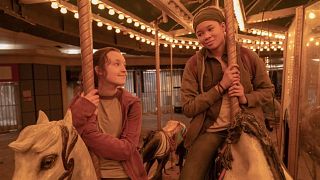 -
Copyright

Liane Hentscher/HBO
WARNING: This article contains spoilers for HBO's The Last of Us series.
In the latest episode of The Last of Us, titled "Left Behind," based on the original game's DLC expansion of the same name, viewers are taken on a journey into the past of the protagonist, Ellie. 
Similar to the series' poignant and intimate third episode (which I believe could be 2023's most memorable piece of television), the most recent instalment also follows a self-contained love story between two characters. 
However, the episode has been attracting a considerable amount of negative reviews and currently has a 7.5 rating on IMDB - the lowest score of the series so far. 
Before we take a look at why, here's a quick summary of the episode. 
A brief recap of "Left Behind"
Episode seven picks up almost where the previous episode left off, with Joel severely injured from a gunshot wound and Ellie rushing to get him to safety. 
As Ellie searches for medical supplies to treat Joel's injuries, the episode transitions to a flashback of her time at a FEDRA facility in the Boston Quarantine Zone, months before our two protagonists ever met. 
In the middle of the night, Ellie is interrupted in her sleep by her runaway best friend Riley (played by Storm Reid), who reveals that she's joined the Fireflies, a revolutionary militia group. 
Riley convinces Ellie to sneak out of the facility and takes her to an abandoned mall, promising she'll show her the best night of her life. 
It's an evening of discovery. The two friends walk escalators, play Mortal Kombat, drink booze, ride carousels, dance to Etta James and eventually share a kiss with each other. 
But the night takes a tragic turn when they are attacked by an infected, and both are bitten. Ellie, who viewers now know is immune, agrees to sit and wait with Riley, as they spend whatever time they have left together.
It all sounds like a recipe for a thoroughly entertaining and thrilling episode of telly, right? So why has it been rated as the worst of the series? 
Ugly people getting upset over two girls kissing
Sadly but rather unsurprisingly, we still live in a time where TV episodes are being review bombed because of simple homophobia. 
"Left Behind" and the third episode in the series, "Long, Long Time," which both feature LGBTQ+ storylines, have been bombarded by online trolls and bigots on IMDB, showing a hugely disproportionate number of 1 star reviews. 
"Left Behind" currently sits on an overall rating of 7.5 stars, with the majority of ratings, about 34 percent, being 10 stars, but about 14 percent being 1 star. 
"Long, Long Time," which centres on the relationship between Bill and Frank, received even more extreme ratings than "Left Behind". While over half of the ratings are 10 stars, just over a quarter of ratings are 1 star.
By contrast the first two episodes have 1.8 percent and 1.9 percent 1 star reviews instead. It's blatant homophobia. 
I find it bamboozling that these ugly bigots even bothering to watch the show. What did they expect when they signed up for it? The Last of Us has always been a queer story. Ellie is a lesbian, made clear by both the "Left Behind" DLC and her relationship with Dina in the second game. 
Both Bella Ramsey (Ellie) and Storm Reid (Riley) have responded to the homophobic backlash. 
"It's 2023. Like, we have other things to prioritise. Like worrying about who people love is just absurd to me. Like we should all accept it. We should all respect that people are choosing love," Reid said in a recent interview. 
Ramsey said the following: "The climate emergency and stuff, there are so many more important things to be worried about than two people in love kissing on a screen."
Couldn't have put it better myself! 
Why I personally didn't enjoy the episode that much
As a diehard fan of the original story, I was apprehensive going into this series. I thought they wouldn't be able to do justice to the masterpiece that is the game. But boy was I wrong, as I've loved pretty much every episode so far. HBO's adaptation has skillfully blended pre-existing and new material, resulting in a great series overall.
That being said, this episode wasn't my favourite for a number of reasons. And no, not for the reasoning of those sad, raging homophobic incels. Let me explain myself.
Don't get me wrong - I did find it an enjoyable watch. I thought Storm Reid played Riley phenomenally and her on-screen chemistry with Ramsey was equally great. I loved watching Ellie's amazement at something as simple as an elevator and confusing a photo booth with a time machine. It was a heartwarming coming-of-age love story and and I understand it's importance for viewers to learn more about Ellie's backstory and how she got bitten.
However, I don't feel like the episode worked as well as the game and I'm not convinced that the episode was necessary for the TV series as a whole, particularly given that there are only two episodes left. Instead, I think a better approach would have been to tell the story through a series of small flashbacks interwoven within the main plot, rather than devoting a full episode to it. 
In the game, players witness Ellie and Joel's relationship develop over time, but it feels like we haven't spent much time with them in the TV series so far. Furthermore, episode six ended on a cliffhanger regarding Joel's fate, and as we head into episode eight, we're left with the same unresolved situation. 
Had the series been longer, perhaps 15 episodes, I probably would've loved this addition. Nevertheless, given the limited number of episodes, it feels like wasted time. I still have faith that the show-runners will deliver a satisfying conclusion to season one. I just hope the series does not suffer the same fate as the rushed final season of Game of Thrones.
What did you think of the episode?