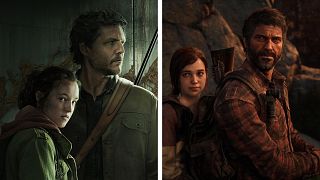 Copyright

HBO & Naughty Dog
-
HBO has decided to remake the best video games ever made - Euronews Culture's resident gamer gives his take on what could be the adaptation that breaks the console-to-screen curse.
It's coming, and I cannot wait to see what they have done.
I am of course talking about series adaptation The Last Of Us.
Ten years ago, the Californian video game studio Naughty Dog, known for Crash Bandicoot, Jack and Dexter and the famous Uncharted (adapted in 2022 for the big screen with Tom 'Spiderman' Holland and Mark 'Marky Mark' Wahlberg), released a new game: The Last Of Us.
We knew they were good at crafting games that played out like cinematic experiences, especially with what they'd achieved with Uncharted. But nothing could have prepared me for what was about to come.
I remember sitting on the couch, controller in hand, headphones on, discovering the latest game from the acclaimed studio.
The plot: a post-apocalyptic America ravaged by a fungal disease, which transforms humans into horrible monsters.
Another survival game playing with horror tropes? I was thinking: "Let's see what they've done, and hope it's not another Resident Evil."
We start in the security zone of Boston, 20 years after the beginning of the epidemic. We play Joel, a middle-aged smuggler with a simple mission: delivering a package to a group called The Firefly outside of the so-called 'safety zone'. But the package is quite unusual: it's a fourteen-year-old girl name Ellie.
I have to admit I was not really expecting a lot, even if most critics were quick to sing its praises.
But it took me by surprise. Its cinematic credentials were really well done and the immersion started right away: the security checkpoints and the repressive living conditions, and then the outside world, ravaged by the disease. And of course, the danger is not always the one you think.
The game is like a road movie: two characters who need to help each other in order to survive. Survival at its most primal. You were counting your ammo, establishing strategies, trying to go through each level, worrying each time whether those creepy clicks you heard where background noise or warnings made by the beasts.
More than a simple action / survival / horror game, we explored the relation between this man, who lost his daughter at the beginning of the pandemic event, and the young girl who has also suffered a great loss. The crucial bond they needed - even if they didn't know it yet - made them a great duo to play, and it was fascinating to watch their interactions.
With brilliant, immersive storytelling, we really had the impression of "playing" a movie.
Seven years after its release, a sequel followed, which was even better in every aspect. However, controversy followed, specifically regarding the violence. Digging into the darkness of human soul and exploring what the characters are ready to do for the ones they love, these thematic strands are big part of both games: above all, a story of survivors in a world without rules, where humans sometimes can be more monstrous than any ghoul ever could.
Wandering the dangerous environment, following the scripted walk-through for the duo was an incredible experience. It grabs you by the guts and refuses to let go. Alternating between terrifying fights and poetic explorations as well as beautiful scenes which allows the relationship between the two to develop, this was an experience that leaves you with plenty of food for thought. Musings about who we are, and what we would be ready (or not) to do in similar circumstances.
For me, it was a real masterpiece; most critics agreed and many gamers referred to it as one of the best games ever made.
But there was one snag. 
After the release of the second game, HBO announced they had decided to adapt The Last Of Us as a series. And this, as many a videogame and cinema fan knows, is hardly ever good news.
There are too many awful videogame adaptations to mention, and they've all paved the way to creating something of a curse: games and cinema are not happy bedfellows. Whether it's Super Mario Bros, Resident Evil, Tomb Raider, Warcraft, Pokémon, Hitman, Assassin's Creed, Prince of Persia, Need for Speed, Angry Birds, Street Fighter, Doom or Max Payne, there's been cinematic heartache at every turn.
That said, I can't help but feel optimistic about The Last Of Us.
Firstly, because it is helmed by Craig Mazin (Chernobyl) and Neil Druckmann, director of the game and co-president of Naughty Dog.
Secondly, because of the inspired casting: Pedro Pascal (Mandalorian, Narcos) will play Joel and the young Bella Ramsey (Game Of Thrones, Catherine Called Birdy) has the daunting task of playing Ellie. But I couldn't think of two better performers to do justice to these beloved characters.
And when you've got the director and creator of the game, as well as the celebrated composer Gustavo Santaolalla on board, surely this means they're taking the adaptation and the responsibility it entails very seriously. At least, I think so.
Mazin and Druckman have already announced that there are some slight changes between the game and the series. Fair enough, and some artistic license is inevitable. They will introduce new characters for a deeper exploration of the world, as well as new monsters, and a slight deviation from the gaming lore concerning the way the virus spreads.
Again, fine by me, even if I am shivering at the thought of this series release.
Shivering with excitement, sure. Shivering with expectation, definitely. And, it has to be said, shivering with fear that they may have mucked it up.
The cinematic transition from videogame to quality viewing needs a champion, and I'm really hoping that The Last Of Us will be the one that breaks the curse.
Can it be the eagerly awaited steppingstone between the two mediums? And will it be the masterpiece the games remain for me?
Quite possibly. As long as they treasure the atmosphere, lean into the visceral exploration of darkness that lies within every human soul, and, above all, prioritize the inventive storytelling. They need to understand that this is not your average survival tale and more the journey of a broken middle-aged man paired with a young girl who tragically needs to lose her innocence in order to survive.
All of that in nine episodes? Hope springs eternal.
The first season of The Last Of Us comes out on 15 January in the US and Argentina, and on the 16 January in the UK, and I cannot wait to see what they have done.