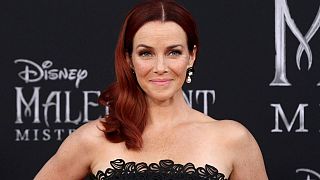 Annie Wersching, known for her roles in the TV shows 24 and The Last of Us video game, has died of cancer aged 45.
She was best known for playing FBI agent Renee Walker in seasons 7 and 8 of 24, and provided the voice for Tess in The Last of Us. Wersching also had prominent roles in Star Trek: Picard as the Borg queen in Season 2, as well as in The Rookie.
She was diagnosed with cancer in 2020.
Wersching's husband, actor Stephen Full, issued a statement.
"There is a cavernous hole in the soul of this family today. But she left us the tools to fill it. She found wonder in the simplest moment. She didn't require music to dance. She taught us not to wait for adventure to find you. 'Go find it. It's everywhere.' And find it we shall. As I drove our boys, the true loves of her life, down the winding driveway and street, she would yell BYE! until we were out of earshot and into the world. I can still hear it ringing. Bye my Buddie. 'I love you little family…'"
Neil Druckmann, the creative director of new HBO Max series "The Last of Us" based on the game, tweeted on Wesching's passing:
"Just found out my dear friend, Annie Wersching, passed away. We just lost a beautiful artist and human being. My heart is shattered. Thoughts are with her loved ones."
24 star Kiefer Sutherland called her "a beautiful person" and "my friend", and said "my heart breaks for her family."
Wersching was born in St. Louis in 1977. She began her acting career with a guest appearance on the show Star Trek: Enterprise and moved on to guest starring roles on such shows as Charmed, Killer Instinct, Supernatural, and Cold Case.
Her first major role was as Amelia Joffe on ABC's long-running soap General Hospital. She also had roles in Castle, The Vampire Diaries, Runaways, Timeless, and Bosch.
One of her final roles was in Season 2 of Star Trek: Picard, two decades after she made her screen acting debut in an episode of Star Trek: Enterprise. Wersching frequently shared photos of herself from set in full costume.
Wersching is survived by her husband, Stephen, and three sons, Eddie, Ozzie and Archie.