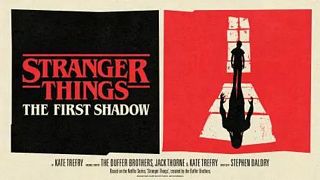 -
Copyright

Netflix and Sonia Friedman Productions
You've had the dance version of Peaky Blinders. Now it's time for the Upside Down to hit the stage, as Stranger Things is officially coming to London's West End.
Titled Stranger Things: The First Shadow, the play is the streaming giant's first live stage production and is a spin-off of their wildly popular series. It will have its world premiere at the Phoenix Theatre later this year, once the Paul Mescal-starring A Streetcar Named Desire comes to an end.
Written by Stranger Things writer and co-executive producer Kate Trefry from an original story by the Duffer Brothers, Jack Thorne and Trefry, the production will be helmed by Tony-winning director Stephen Daldry, with co-direction from Justin Martin.
Here's the description for The First Shadow, which takes place prior to the events depicted in the show:
"Hawkins, 1959: a regular town with regular worries. Young Jim Hopper's car won't start, Bob Newby's sister won't take his radio show seriously and Joyce Maldonado just wants to graduate and get the hell out of town. When new student Henry Creel arrives, his family finds that a fresh start isn't so easy … and the shadows of the past have a very long reach. Brought to life by a multi-award-winning creative team, who take theatrical storytelling and stagecraft to a whole new dimension, this gripping new adventure will take you right back to the beginning of the Stranger Things story — and may hold the key to the end."
An origin story makes sense and ensures that even those who haven't been keeping up with show won't be completely lost within the Stranger Things mythology.
No news yet on whether we'll be getting a pirouetting Demogorgon, but hope springs eternal.
What is certain, however, is that Daldry has spent a year working with masters of illusion to develop special effects for the play, which sounds like it will push the envelope in terms of audience immersion. 
The series debuted in 2016 and has been one of the streaming platform's most popular shows. It has run for four seasons and won 12 Primetime Emmy awards, and its fourth season tops Netflix's Most Popular English TV list with 1.35 billion hours viewed.
"We are beyond excited about Stranger Things: The First Shadow. Collaborating with the brilliant Stephen Daldry has been nothing short of inspiring, and Kate Trefry has written a play that is at turns surprising, scary and heartfelt," the Duffer brothers said in a statement.
"You will meet endearing new characters, as well as very familiar ones, on a journey into the past that sets the groundwork for the future of Stranger Things. We're dying to tell you more about the story but won't — it's more fun to discover it for yourself. Can't wait to see you nerds in London."
Nerds assemble! Tickets for the play, which is produced by Netflix and Sonia Friedman Productions, will go on sale this spring.