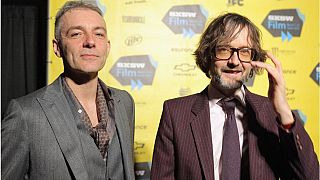 Pulp bass player Steve Mackey has died at the age of 56.
Mackey's wife, Katie, announced his death on social media, writing that he died following a three-month hospitalization. No cause of death was provided.
"After three months in hospital, fighting with all his strength and determination, we are shocked and devastated to have said goodbye my brilliant, beautiful husband, Steve Mackey," Katie wrote.
"Steve was the most talented man I knew, an exceptional musician, producer, photographer and filmmaker. As in life, he was adored by everyone whose paths he crossed in the multiple creative disciplines he conquered. I would like to express my heartfelt thanks to all the NHS staff who worked tirelessly for Steve. He will be missed beyond words."
Pulp frontman Jarvis Cocker wrote on Instagram:
"Our beloved friend & bass player Steve Mackey passed away this morning (...) Steve made things happen. In his life & in the band. & we'd very much like to think that he's back in those mountains now, on the next stage of his adventure. Safe travels, Steve. We hope to catch up with you one day."
Mackey grew up in Sheffield, and he joined Pulp in 1989, first contributing to their third album 'Separations'. He went on to play on all their subsequent studio albums, 1995's 'Different Class' (featuring the hits 'Common People' and 'Disco 2000') and 1998's 'This Is Hardcore' (featuring songs 'Help the Aged' and 'A Little Soul').
While Pulp would only release one more album in 2001 with 'We Love Life', Mackey would accompany Cocker for his solo efforts - 2006's 'Jarvis' and 2009's 'Further Complications'.
The band occasionally reunited onstage over the next two decades.
Several musicians have paid their respects to the late Pulp bassist, including Noel Gallagher, Suede bassist Matt Osman and Massive Attack.
In addition to his time with Pulp, Mackey was a remixer and producer who worked with The Kills, M.I.A., Cornershop, Florence + the Machine, and Arcade Fire, with Mackey serving as co-producer on the latter's 2017 album 'Everything Now'.
The bassist was also a member of the Weird Sisters supergroup - alongside Cocker and Radiohead's Jonny Greenwood and Phil Selway - which appeared in the 2005 film Harry Potter and the Goblet of Fire.