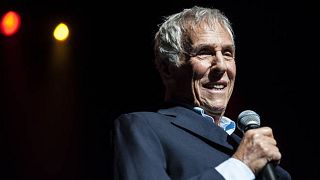 Burt Bacharach, the legendary composer behind the unforgettable melodies of 'Walk on By', 'Do You Know the Way to San Jose', 'I Say a Little Prayer' and dozens of other hits, has died at 94.
The Grammy, Oscar and Tony-winning artist died at home in Los Angeles of natural causes, publicist Tina Brausam said Thursday.
Over the past 70 years, only Lennon-McCartney, Carole King and a handful of others rivaled his genius for instantly catchy songs that remained performed, played and hummed long after they were written. He was considered one of the most important composers of 20th-century popular music.
He had a run of top 10 hits from the 1950s into the 21st century, and his music was heard everywhere from movie soundtracks and radios to home stereo systems: 'Alfie', 'The Look of Love', 'I'll Never Fall in Love Again' and 'This Guy's in Love with You.'
Dionne Warwick was his favorite interpreter, but Bacharach, usually in tandem with lyricist Hal David, also created prime material for Aretha Franklin, Dusty Springfield, Tom Jones and many others. In total, Bacharach and Warwick wrote 39 of her chart hits together.
Despite earning the moniker of the king of easy listening, his music crossed all genres, with Elvis Presley, the Beatles and Frank Sinatra among the countless artists who covered his songs. More recent performers who sung or sampled him include The White Stripes, Twista and Ashanti.
His songs were recorded by over 1,000 artists, he wrote 73 US and 52 UK Top 40 hits, winning eight Grammys and three Oscars in his lifetime.
He received two Academy Awards in 1970, for the score of Butch Cassidy and the Sundance Kid and for the song 'Raindrops Keep Fallin' on My Head' (shared with David). In 1982, he and his then-wife, lyricist Carole Bayer Sager, won for 'Best That You Can Do', the theme from Arthur.
His other movie soundtracks included What's New, Pussycat?, Alfie and the 1967 James Bond spoof Casino Royale.
Tributes poured in online:
"Walk On By, I Say a Little Prayer, The Look of Love, the soundtracks to Casino Royale or Butch Cassidy & The Kid, his debut with Marlene Dietrich - Burt Bacharach was one of the greatest composers in the history of 20th century Pop and Soul."
Born in Kansas City, Missouri, on 12 May 1928, and grew up in New York City. 
His father Mark Bertram 'Bert' Bacharach, a well-known syndicated newspaper columnist, and his mother Irma Freeman was an amateur painter and songwriter who helped Burt learn piano during his childhood. He practiced piano every day after school and would sneak into jazz clubs, bearing a fake ID, and hear such greats as Dizzy Gillespie and Count Basie.
"They were just so incredibly exciting that all of a sudden, I got into music in a way I never had before," he recalled in the memoir "Anyone Who Had a Heart," published in 2013. "What I heard in those clubs turned my head around."
Over the years and an impressive career, he collaborated with stars like Sheryl Crow, Elvis Costello and Dr Dre, ensuring that even younger audiences were introduced to his unparalleled skills as a composer and lyricist. A Pyramid Stage performance at Glastonbury Festival in 2015 also proved that Bacharach maintained an ever-growing fanbase.
Burt Bacharach was married four times, and his survived by his wife Jane Hansen and their three children: Christopher, Oliver, Raleigh.