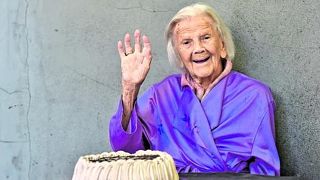 Serbian actress Branka Veselinović has died at the age of 104 in Belgrade.
As of 7 September 2022, after the death of American actress Marsha Hunt, she became the oldest celebrity and living actress in the world.
During her eight-decade career, she was starred in over 100 theatre shows and more than 50 TV series and films.
"They say that people don't die as long as memory of them lives on. Branka Veselinović cannot and will not be forgotten," shares Ljubiša Ivanović, journalist at Euronews Serbia.
Born Branka Ćosić on 16 September 1918 in Stari Bečej, Austria-Hungary, Veselinović studied acting at National Theatre in Belgrade (1936-1938) and trained at the Serbian National Theatre in Novi Sad. From 1940, she made a name for herself by appearing in stage shows across Belgrade and played in the first play of the Yugoslav Drama Theater in 1948: "The King of Betajnova".
She spoke English, Russian, German, French, Czech, Hungarian and Italian. Veselinović was best known on the international stage for playing the main character in the play 'Mother Courage' and for her role as Natasha in Mel Brooks's film The Twelve Chairs in 1970, one of at least 18 film adaptations of the Russian 1928 novel 'The Twelve Chairs' by Ilf and Petrov.
"It is difficult to decide on one role that makes her stand out. Perhaps it is the role of Gina in Nušić's play Grieving Family, for which she received the Sterija Award in 1964, the highest theatrical award in Yugoslavia," says Ivanović.
Veselinović later appeared in Three Sisters (1982), Russian Tzar (1993), comedy show Seljaci (Peasants) (2006), and the Serbian remake of the classic medical TV series ER, Urgentni centar (Emergency Room) (2014).
Tributes began to pour online:
"She lived and survived her life. She was a humanitarian. She was the world's oldest mummy. She was many things."
"It's never too late to learn."
"She is a woman with a big heart and a noble soul. Rest in peace."
The celebrated actress married artist and translator Mlađa Veselinović in 1948 and they remained married until his death in 2012.
She often spoke of him fondly: "Oh my great love. How wild a man he was. We were together for almost 40 years. He's still in my heart", Branka told Serbian tabloid Blic in 2021.
Veselinović was also involved in humanitarian events for children. Together with her husband, she founded the "Branka and Mlađa Veselinović" Fund, whose work is primarily focused on aiding children with developmental disabilities. She was chosen as a UNICEF ambassador for life in 1980.