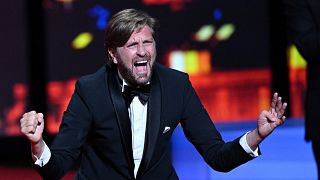 -
Copyright

Christophe Simon/AFP
By Tokunbo Salako with AFP
It's turning out to be quite the calendar year for Swedish director Ruben Östlund who's been announced as the President of this year's Cannes Film Festival in May.
Fresh from his success collecting the coveted Palme d'Or for the second time last year with his multi-award winning Triangle of Sadness, the Swede will head the panel 50 years after his compatriot Ingrid Bergman.
Östlund becomes, after Francis Ford Coppola and Emir Kusturica, the third two-time award-winning filmmaker to become President of the Jury, and the very first to take on this role the year following his coronation.
In reaction to his appointment Östlund said: "I am happy, proud and humbled to be entrusted with the honour of presiding over this year's Cannes Film Festival Jury. No other place in the world arouses such a desire for cinema when the curtain rises on a film in Competition. What a chance to be there with these connoisseurs that are the festival-goers of Cannes. I sincerely believe that film culture is going through a crucial period. Cinema is unique. We share it. Looking together demands more from what is shown and intensifies the experience. It gives us something so different than the dopamine secreted by the scrolling of individual screens." 
Madness of modern addictions
The hypnotic effect of mobile modern technology is a theme Östlund has often referred to in and outside of his work on the big screen so his presiding over the jury could signal something for cinema purists to salivate over.
In only six feature films, the filmmaker has two selections at Un Certain Regard, of which he won the Jury Prize in 2014, before making his debut in Competition. No sooner had he been included than he was awarded the Palme d'Or twice. First for The Square at the 70th Cannes Film Festival, then for his next film, Triangle of Sadness, honoured last year.
His next short film, Autobiographical Scene Number 6882, contains all the ingredients of his future work, which are affirmed in Happy Sweden, a feature film selected at Un Certain Regard in 2008.
In Snow Therapy, presented at Un Certain Regard in 2014, this situation takes the form of an avalanche where a father prefers to take shelter with his mobile phone rather than save his children and his wife. The ensuing drama, and comedy, comes from the confrontation between our basic instincts and what society dictates is the right way to behave. 
In 2017, in The Square, he fictionalizes an artistic experiment he conducted in his native country. The film brilliantly discusses the borders of public space, art and our animal part.
"As President," concludes Ruben Östlund, "I will remind my colleagues on the Jury of the role of cinema. A good film also connects to the collective experience, it stimulates reflection and makes you want to discuss it. So, let's go see movies together!"
The 76th edition of the Cannes Film Festival will be held from 16 to 27 May.