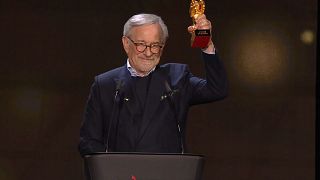 -
Copyright

Steven Spielberg et son Ours d'or d'honneur
Steven Spielberg has been given the Golden Bear award at the 73rd Berlinale film festival in Germany in a tribute to his decades-long career.
Receiving the honorary gong, after an introduction by celebrity fan U2 frontman Bono, Spielberg explained how important the award was to him and his Jewish identity.
The 76 year old American, known for a vast array of films including blockbusters Jaws, E. T. and Schindler's List, spoke of his roots, saying, "This honour has a particular meaning for me because I'm a Jewish director. I like to believe that this is one of a small moment in a much larger, ongoing effort of healing the broken places of history - what Jews call 'Tikkun Olam', the repairing and restoring of the world."
At home in Berlin
In his moving acceptance speech, Spielberg also paid tribute to German cinema and filmmakers and said he felt "at home" in Germany as the award meant huge œuvre was accepted by the country. He discussed The Shoah Foundation, which he established in 1994, saying that Germany has long been an essential partner in its work.
As part of its mission, the foundation films survivors of the Holocaust and other atrocities and genocides around the world. He praised the German people not just for their involvement but for their attitude to ensuring these tragedies will not be repeated. 
He said they, "…have shown themselves willing to read their country's history, to confront its lessons regarding anti-Semitism, bigotry and xenophobia, harbingers of holocaust. Other countries, including my own, can learn a lot from the courageous determination of the German people to act to prevent fascists from seizing power".
Spielberg also spoke about his recently released film, the semi autobiographical picture The Fabelmans. It came out on Wednesday (22 February) in French cinemas and tells the story of a boy with a passion for filmmaking who experiences anti-Semitic abuse. It's received excellent reviews, with the Rotten Tomatoes website announcing 92% of all critics reviews were positive, with an average rating of 8.2 out of 10.
At the Berlin-based film festival, Spielberg told the crowd he is "still so excited" by cinema and has no plans to give up. In fact, he spoke of his desire to beat the record of Portuguese filmmaker Manoel de Oliviera, who directed his last picture at the age of 105.
Spielberg also caused great excitement with an update on his upcoming television adaptation of Napoleon, one of late director Stanley Kubrick's most famous lost projects. He first took over a venture of the 2001: A Space Odyssey director with the science fiction film A. I. Artificial Intelligence. Kubrick handed Spielberg the project in 1995 after failing to get it off the ground.
Spielberg announced his plans to create the Napoleon series a decade ago based on Kubrick's script and it's now been established that the biopic will be in seven parts on American network HBO. Don't get too excited though - details are scarce and no details of stars or release dates have been given - and it's even unclear if Spielberg will be directing the project.