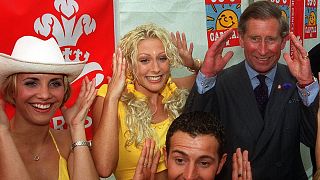 King Charles has commissioned 12 pieces of music for his upcoming coronation, including work from Andrew Lloyd-Webber
Charles is said to have personally chosen all of the music for the ceremony which will take place at Westminster Abbey on 6 May.
Also featuring at the event will be a gospel choir and Greek Orthodox music in memory of Charles' late father Prince Philip.
Lloyd-Webber, best known for writing popular musicals including Cats and The Phantom of the Opera, is writing an anthem based on Psalm 98 from the Bible.
It will be part of a wide selection of music at the coronation, which will include six orchestra pieces, five choral works and a tune to be played on the organ.
The coronation is likely to be a spectacular event, with a special orchestra and soloists, including Welsh opera singer Sir Bryn Terfel. On that theme, it's been announced that part of the service will be sung in Welsh too.
At the moment when the King is officially declared as monarch, choristers from Westminster School will sing the Latin call "Vivat", a long held tradition for coronations, including the late Queen's in 1953.
The day after the coronation, there will be a concert held at Windsor Castle which promises to include a whole host of not yet confirmed famous acts.
Throughout his years in the public eye, Charles has been well known for his love and patronage of the arts. Here we look at some of his favourites...
Television
Charles is said not to watch as much television as his mother and grandmother before him did - and he possibly would have skipped his youngest son Harry's explosive Netflix documentary…
However, in October 2022, shortly after he became King, Charles made a surprise appearance at the British National Television Awards, where he praised soap drama Emmerdale, which was celebrating its 50th anniversary. He said, "I'm afraid I'm so old I remember when it was called Emmerdale Farm, owned by the Sugdens." He also lauded the long running show for its ambition to achieve net-zero emissions by 2030 and for its efforts working towards a sustainable future.
During a visit to Cornwall in 2018, then Prince Charles admitted to being a fan of Poldark, a historical drama based in the English county. He commented on how prolific the author of the original novels, Winston Graham, was, saying, "What I can't get over, watching that Poldark stuff on TV, is how many he wrote".
During a meeting with actor Tom Hiddleston, he said he enjoyed the BBC series The Night Manager, saying he liked it 'very much'.
Music
Charles is particularly fond of classical music and is patron for numerous bodies of that ilk, including the Royal College of Music, the Philharmonic Orchestra and the English Chamber Orchestra.
In 2011, he fronted a BBC documentary 'The Prince and the Composer' about his love for Sir Hubert Parry, most famous for the hymn Jerusalem. He's also spoken about his passion for the work of Wagner and Bach, among others.
He's a fan of more current music too, saying in 2018 he enjoyed the songs of Leonard Cohen.
In 2021, he released a playlist of some of his favourite music, in order to thank COVID-19 frontline workers for their dedication. The songs that featured were:
Givin' Up, Givin' In - The Three Degrees
Don't Rain On My Parade - Barbra Streisand
La Vie En Rose - Edith Piaf
Upside Down - Diana Ross
The Voice - Eimear Quinn
The Click Song - Miriam Makeba
You're A Lady - Peter Skellern
La Mer - Charles Trenet
Bennachie - Old Blind Dogs
Lulu's Back In Town - Dick Powell
They Can't Take That Away From Me - Fred Astaire and Ginger Rogers
Tros Y Garreg/Crossing the Stone - Catrin Finch
Tydi a Roddaist - Bryn Terfel
Film
While Queen Elizabeth's favourite film was, allegedly, the 1980 'space opera' Flash Gordon, Charles' tastes are less clear.
At a BFI event in 2018, he expressed his fondness for the Pink Panther film series which began in 1963 and starred the late Peter Sellers.
Charles is also said to be a fan of the Wallace and Gromit stop motion film franchise. His wife, Queen Consort Camilla, reportedly called the fictional pair his 'favourite people in the world'.
Though it's unclear if Charles was a fan of '90s British movie The Full Monty - although he has claimed to have watched it - he is certainly inextricably linked to it. In 1998, during a visit for his Prince's Trust charity, he danced to Donna Summer's hit Hot Stuff in a similar vein to the characters in the film. They weren't royals though, but instead unemployed steelworkers who decided to give stripping a try. Charles' attempt is a must see.
Art
Charles is well known for his love of art - both as a fan and as an artist.
The public got to delve into the King's artistic tastes in 2018, when he curated an exhibition showcasing his favourite pieces from the royal collection alongside the work of young creators. The show, called Prince and Patron was held at Buckingham palace to celebrate his 70th birthday.
Two portraits of the Queen and Queen Mother by late painter Michael Noakes featured, alongside a depiction of Queen Victoria and her husband Albert by 19th-century German artist Franz Xaver Winterhalter. Both artists were favourite portrait painters of the royals and, to this day, Charles is said to bring an artist on all of his foreign trips, in order to create a record that goes beyond the limitations of photography.
Also in the exhibition were some of Charles' favourite pieces - among others, The Adoration of the Shepherds, a Renaissance painting by Jacopo Bassano and Johan Joseph Zoffany's The Tribuna of the Uffizi, which was commissioned by Queen Charlotte in 1772.
Working with the royal collection curator Vanessa Remington, Charles also chose to display art from patrons of three of his charities. On show were works from the Royal Drawing School, the Prince's Foundation School of Traditional Arts and the Afghanistan-based Turquoise Mountain, which supports traditional builders and artisans in the country.
In terms of art though, Charles is perhaps best known for his own work. As a keen water colourist, he mainly likes to paint landscapes, often of Scotland, the south of France and Tanzania, which he has said is his favourite place to capture.
Last year, around 80 pieces of his art were exhibited at the Garrison Chapel in London. A display panel at the exhibition quoted Charles as saying, "I find it [painting] transports me into another dimension which, quite literally, refreshes parts of the soul which other activities can't reach".
In 1991, he released a book of around 70 of his works, aptly called Watercolours.
Books
Like art, Charles is not merely a consumer of literature. He's actually written - or co-written - a number of books, including the 1989 title A Vision of Britain: A Personal View of Architecture which accompanied a BBC documentary of the same name.
As well as having a hand in works on chiefly gardening and the environment, he also published a children's book, The Old Man of Lochnagar, in 1980. It focuses on a fictional man living in a cave near to the royal residence of Balmoral in Scotland and has been made into a short film, stage play and ballet.
In 2021, some of Charles' favourite books by other authors were revealed, thanks to his wife Camilla's Instagram-based 'Reading Room' which bills itself as a hub for literary communities around the globe. On Charles' list of top reads were:
Travels with Myself and Another – Five Journeys from Hell by Martha Gellhorn
Napoleon by Adam Zamoyski
The Battle of the Atlantic by Jonathan Dimbleby
Along the Enchanted Way by William Blacker
Lustrum by Robert Harris
In 2017, Camilla also let slip that Charles enjoys reading the Harry Potter series to his grandchildren and does all the character's voices, leaving the young royals 'spellbound'.