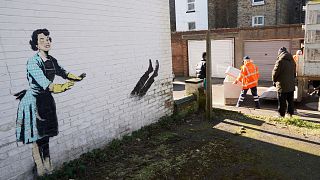 Iconic British street artist Banksy unveiled his latest UK street artwork, which appears to take aim at domestic violence against women as the world celebrated Valentine's Day.
The mural, which was spotted in Margate in southeast England, depicts a caricature image of a 1950s housewife with a swollen eye and missing tooth seemingly shoving her male partner into a real chest freezer.
Despite being integral to the artwork, the abandoned freezer was later removed by council workers, just hours after the artist confirmed the authenticity of the piece. 
The elusive Banksy, whose true identity remains unconfirmed, posted three images of the work - which he entitled "Valentine's Day Mascara" - on his Instagram account.
Two of the images were close-ups showing the woman, wearing a blue pinafore and yellow washing up gloves, smiling but seemingly with a battered face.
Workers from Thanet council, the local authority administering Margate, arrived at the site mid-morning Tuesday to clear away the dilapidated household appliance.
The move prompted bemusement - and even conspiracy theories - among bystanders, who noted it was usually hard to get the council to make prompt removals.
"People were sort of like, 'Stop, stop, you know, this is a Banksy, right?'" said local resident Laura Holden.
"And they (the workers) were like, 'Yeah, no, we've got permission to take everything away'," she said.
"It felt like it was part of the piece, and perhaps Banksy intended that all along, because we all know how hard it is to get Thanet District Council to come and collect our rubbish."
The Thanet District Council posted a statement following the freezer's removal. "A fridge freezer which is believed to have been part of the installation has been removed by council operatives on the grounds of safety as it was on public land."
"The freezer is now in storage and will be returned once it has been made safe to the public. We will be contacting the owner of the property to discuss the options to preserve the artwork for the district," the statement continues. 
Meanwhile Banksy, known to hail from Bristol in southwest England, has been busy producing and selling dozens of limited-edition screen prints to raise funds to support civilians affected by the war in Ukraine.
The 50 prints, which show a mouse sliding down the side of a box with "FRAGILE" printed on it, were sold in December for £5,000 (€5,600) each, through the charity Legacy of War Foundation.