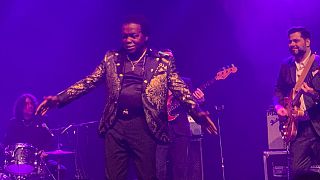 -
Copyright

David Mouriquand
"Are you happy?"
Such is the repeated, mantra-esque question that American soul legend Lee Fields asks his audience during his live shows.
Armed with his ever-powerful voice and an impressive collection of jackets that range from Sgt Peppers-style blazers to gold-patterned tuxes, the 73-year-old has still got it, and knows how to put on a performance that ensures his audience can't help but feel happy.
Over a prolific career of more than five decades and more than 20 albums, Fields has earned the reputation as the true king of funk-soul. Having worked with the likes of Kool and the Gang, Bobby Womack, Charles Bradley and Sharon Jones, his story is one of perseverance and passion.
He has officially joined the Daptone roster with his new record 'Sentimental Fool', a deep and beautiful album which was one of our best albums of the 2022.
Currently on tour, Euronews Culture caught up with him before his live show in Lyon, France, to talk about his career, his appreciation for Miley Cyrus, the dangers that AI songwriting poses to music, and the joys of touring at the age of 73…
Euronews Culture: Before talking about your new album and the tour, can you tell me what you wanted to be when you were younger? If I'm not mistaken, you didn't want to be a singer…
Lee Fields: No, I wanted to be a business man. I got into music on a dare. A friend of mine dared me to participate in a talent show and from then, the band hired me to be their singer and it never stopped!
Your first musical spark was The Beatles, right?
Absolutely! The Beatles and Jimmy Reed. What amazed me about The Beatles was the way they presented themselves like futuristic guys. At that time, to see someone walking out on stage with the boots that they had on, the haircuts that they had, and to have a drummer on a risen platform – and it's been that way ever since. All the rock stars have their drummers on a rise. And then long hair has been around ever since. So they changed the world and so far, that change hasn't deviated to something else. It's still the same. 
And what I liked about Jimmy Reed… If you listen closely to The Beatles, you can hear Jimmy Reed. Listen to 'Big Boss Man' or 'Baby What You Want Me To Do', and you'll hear that they were influenced by him. And then, of course, James Brown. Country and Western music too, with Dolly Parton. She was a kid – about 16 – when she started to hit the lights. I was influenced by all of them.
You've been very open about the highs and lows of your career and how you felt potentially doomed with the arrival of disco in the 70s. You even quit music for a while in the 80s and worked in real estate… How have you managed to persevere and keep your passion alive for soul music?
I relied on one book – the Bible. Now, I'm not arguing with people over what is true and what isn't, but I believe the Bible is definitely the message of God. I started reading that book when everything around me seemed to be evaporating, when all my dreams were crushed. I read the King James version. The old English was very important. Back then, you couldn't go on a computer and get the meaning of words. You had to look them up. And I was curious to know whether I could get the true meaning of what it meant. I would have to know the etymology of the word at that time. I was always reluctant to get into the new translations. Like back in the day, 'pot' used to be something you cook in. Now, it's something you get high on. And now, you hear them talking less about pot and more about weed… But weed originally is grass out there in nature. Our language is constantly changing and the basic meaning of the word 'corrupt' in the Bible means 'changing of the language'. The Bible itself I attribute to everything that has happened to me.
So, if anybody out there is in a depressive stage, this is the beginning. Depression is the beginning of something great. Because when you're depressed, God is telling you to look deeply and closely to show you how to get out of this. I've had my ups and downs. But it's been wonderful – it's taken me all over the planet and I had a good time and kept my family together. That's beautiful.
You've collaborated with some of the greats over the years – B.B. King, Kool and the Gang, Mavis Staples – some of the legends of music. Do any stand out in particular?
All of them have been meaningful, but Kool and the Gang would be possibly the most. When I was with Kool, they hadn't had a release out at the time. Kool and I became friends, and him and I were pretty tight. Their manager had decided to record me. And when they released their first album, the hits continued coming. It became a hit machine. But working with them for a short while was the most life changing experience, musically speaking, of my life. When I watched them go off and gain success from the sidelines, I was hurting in a way. I wanted to be there, but I understood. That's the way life rolls – it wasn't meant to be.
Your new album, 'Sentimental Fool', is your first record withfamed New York labelDaptone Records. Why wait so long for that collaboration, which seems like a perfect fit?
Because my whole purpose was not about trying to get famous. My whole purpose was not about trying to get rich. What I wanted to do is what that inner voice was telling me. And it wasn't time. Sharon Jones at the time came to Desco Records through me… Charles (Bradley) came through me… The whole beginning started with me… But it's not about me. It's about us. I hate to use that word 'me'. 'Me' sounds like I'm all of that. I'm not all of that. Like it says in the Bible: "For whosoever exalteth himself shall be abased; and he that humbleth himself shall be exalted." But it took a long time because the circle had to be complete, and so far, it has been a marvelous experience. And it was finally time.
There's an honesty and positivity that resonates throughout this album. It's also an incredibly romantic album. You've been married to your wife for over 50 years now. How has that relationship shaped this romantic verve that can be felt in 'Sentimental Fool'?
My marriage has contributed to everything in my life. If I give you my word, I'm gonna try by any means possible to keep my word to you. Because my word to me is who I am. And I'm not wishy-washing. If I tell in front of people and the preacher "To death do we part", that's my intentions. And I mean through natural death. You know what I'm sayin'? And still steadfast and trying to do everything I can to keep that marriage going on until that dreadful time comes. It's all about people doing what they say. During the bad times, and there's been some bad times, I rely on the trust on what the good book says. And I'm not just going on about the Bible. No matter what religion. If your religion tells you that there's a higher power and to love your neighbour and to do the right thing to people, then that's good – regardless of what your religion is. I have respect for all religions.
There's something of a soul revival at the moment. What do you make of that and the enduring legacy of the genre?
I think soul, since the beginning, when God put breath in the nostrils of Adam and he became a living soul, has been here. Adam was the first soul man. And I'm not speaking of colour, now. Soul doesn't have colour – there's just as many white soul artists as there are Black soul artists. It's all about singing from the principles. If a person calls themselves a soul artist and they're telling you to do all kinds of treacherous things, then they're masquerading. I'm very careful with the lyrics I put out there. I don't wanna sing just anything. Because it's all about survival, and the first step to survival is keeping everybody on course, because there's so many misleading information out there. If we listen and believe the things we hear, it would be total chaos, it would be the end of what we know today as civilization. It's about keeping the mind intact.
A great number of artists have sampled your music over the years – contemporary artists like A$AP Rocky and Travis Scott, for instance. How does it feel when you hear your music in that different context?
It feels good! And it feels financially good! (Laughs) I try to stay as grounded as possible because regardless of what you accumulate on this world, you never really accumulate anything. You can have millions and millions of dollars, but when you take that last breath, whatever your assets are, they're here. They don't go with you. So, I'm highly flattered by so many things that are happening in my life – touring, being sampled, talking with you right now… But I take it day by day and stay as focused as I can and do what I can with the time that I have left. And when artists sample my songs, I'm flattered and I'm appreciative!
Are there any contemporary artists that have impressed you, that you listen to, or that have had an impact on you in any way?
Yeah, I like Miley Cyrus. Whatever her new release is now, I think it's going to be a mega hit for her. I heard it once before I left the States, and it's great. I like that singer with the song 'I Made You Look'… What's her name?
Meghan Trainor...
Meghan Trainor! That's the one. There's also a girl called Fousheé. She's out of Plainfield, my town. I think she has a very bright future. But I listen to so much stuff. I also like some of the rap guys. Some of them get a bit too raunchy for me. I'm not knocking their music, now! They see things that I don't see. And I'm not basing things on what I think is right for others. I'm just living my life on what I think is right.
I like a lot of the young artists today – Taylor Swift, Ed Sheeran… I worked with Ed Sheeran when we were in Australia together. This guy is so huge – he fills up colosseums, man! Only him and a guitar! I like a lot of the stuff that's going on today. Life is so many fragrances and so many tastes. If you're riding with me in my car, one minute I'm listening to some country, the next minute I'm listening to some funk – I go through the whole gang!
We're hearing a lot nowadays about artificial intelligence and how it's affecting writing, music, and how kids aren't even going to have to do their exams and exercises because of AI software and Chatbots… Nick Cave even called it out and said AI songwriting was "a grotesque mockery of what it is to be human". How do you think that's going to play a role in music?
Well, the algorithms are already being used every day and they take an artist's voice and can imitate it. I think eventually, there's gonna be few artists that hit it real. Computers – although it's the greatest invention of modern time – we have to keep an eye on what it's doing to us. Until we don't. We could get to a point where we don't know who we are or what we are. And with artificial intelligence it could mimic anything if they get the right algorithms, it could hold an actual conversation with you and show emotions. But we know that real emotions can't be recreated like that – they come from what was created by God. These algorithms and artificial intelligence will be the future artists' greatest adversary. But at the end of the day, there'll be nothing to ever replace when a person sings with pure passion.
Do you think AI could be the death of soul music – literally music with a soul?
I don't think anything can cause the death of soul music. There's always gonna be somebody feeling something. And humans need that. But it's going to be a damaging situation. The way it's taking us… It's getting introduced so pleasantly into our minds, that people might drift off into it. Like I said, there'll be nothing to ever replace a person singing with pure passion. But there might be fewer and fewer in the future, because algorithms will become so popular that we get to a point that when we hear something without the algorithm, we change it because we'll get so addicted. 
It's dangerous and we gotta be very careful with a lot of things in society today. We need to keep track of where we are and what we are, because we might be creating our greatest adversary. I'm all for science and progress – but don't be like the Trojans back in the day. Don't think that the war is won, start a party, and get sleeping. That's when all hell breaks loose! (Laughs)
You've started touring for 'Sentimental Fool' – do you still enjoy going on tour?
Yes, I do. Seeing people happy and in a jovial mood, in contrast to seeing what's on the news and the atrocities that people do… Man, seeing that energies me and gives me hope that there is and will be a future tranquility. Nothing else like it to give a person more hope for the world.
Do you get the time to visit the places you're going to during the tour – or even sample some of the cuisine?
Oh yeah! Food is the first thing on the list! (Laughs) They've got good food everywhere, but I'm really into French cuisine. That's why I love New Orleans in the States so much, because they have a lot of similarities to French cuisine. I like the food everywhere, but the French come up with some dishes, man! It's just unreal! I try to keep my manners, so I won't be licking the plate, but I really want to! (Laughs)
It's these things and seeing happy people that makes everything worth it. If I sit down and listen, read or watch the news, I get very depressed. I think that if a person watches the news long enough, they'd be walking around miserable all day. Because the news concentrates on the bad news. There's bad news all day long. But if there's good news, you only hear it once or twice. If it's tragic, you hear it all day. That's what energizes the news media. Concentrate on some good stuff! There's a lot of people doing good things in the world – let's hear more about them! We want to hear everything, but let's hear about them a little bit more!
Thank you for your time, Mr. Fields.
I truly appreciate it, thank you.
Lee Fields is currently on the Sentimental Fool Tour in France, Belgium, Germany, Netherlands, Norway and Sweden, before heading to Canada and the US next month.
Check out the video above for extracts of the interview with Lee Fields and clips from the concert.