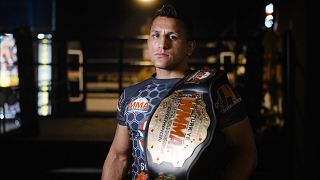 -
Copyright

Obada Albaghdadi
SCENES shines a spotlight on youth around the world that are breaking down barriers and creating change. The character-driven short films will inspire and amaze, as these young change-makers tell their remarkable stories.
They say curiosity killed the cat. But for one man, it changed the course of his life. For years, a young Kadir Dalkiran would collect garbage to earn a living. Between rummaging through bins and looking for materials he could sell, Kadir would daydream about being a football player or travelling the world. He was 14 years old when something caught his attention.
"I used to see posters for MMA. I had no idea what MMA was. So I went to the gym to ask what it is," Kadir tells SCENES.
He was introduced to Mixed Martial Arts (MMA), an extreme, full-contact sport incorporating the striking and kicking techniques of other combat sports like boxing, judo and wrestling. Despite the bruises, cuts and broken bones he sustained from MMA training, Kadir was hooked.
"This sport is my reason for living. I cannot live without MMA. I do not care how many punches I get in a match or if I get injured. I feel better when I practise this sport," he says.
No pain, no gain
Kadir endured hours of intense training on a daily basis to learn the ropes as quickly as possible. For Kadir, his tenacity for the sport is his most important attribute.
"I force myself to do training a normal human being cannot do. I love training more than going to the movies or socialising. It is normal for me to sleep in the gym," he adds.
His hard work paid off when he quickly went from MMA rookie to professional. Since then, Kadir has won 13 Turkish championships, two intercontinental events and one World Championship title.
A proud moment
"The moment I was announced as World Champion was my happiest moment ever," Kadir says, proud to be the only Turkish fighter in the competition.
"It was great to be a champion there and to see our flag hoisted," he adds.
Coach Omer Allar is always by Kadir's side during fights. Kadir's potential was evident from the start, and Omer commended his ability to pick up skills quickly.
"I think he is one of the best sportsmen ever from Yalova. From a technical point of view, he understood and applied instructions from the first time," recalls Omer, Kadir's coach of 9 years.
Kadir's determination is fueled by the discrimination he faces for being a gypsy. Gypsy or Roma are an ethnic group of traditionally itinerant people. According to Britanica, many gypsies originated from India and settled in Europe during the 14th century. Today, gypsy communities are found in many countries around the world.
Kadir says he owes much of his success to his heritage. In return, he is paying it forward by giving free MMA coaching to the underprivileged children in his community.
Paying it forward
"By offering them sports lessons for free, I take them away from alcohol and narcotics. Such bad habits are prevalent in our gypsy neighbourhood," he explains.
Kadir knows the positive impact that MMA can have and is eager to introduce as many young people to the sport as possible. "This sport has given me a lot. It enabled me to visit many countries. It took me out of my neighbourhood to a different world," he explains.
Kadir is hailed as a hero and a role model for the people in his community. He also opens doors that would otherwise be closed to them because of their ethnicity. "Master Kadir is paving the way for us, and we will continue walking in the path he shows," says Muhammet, one of his students.
Kadir's future ambition is to open a state-of-the-art gymnasium that he hopes will support people in his community. "This gym will open its gates to everyone, free of discrimination. I intend to make it free for people who cannot afford fees or subscriptions," he says. "I would like to give hope to them through sports," Kadir adds.
Although MMA is something that Kadir stumbled upon by chance, it has profoundly impacted his life. This motivates him to change the lives of others and inspire the children in his neighbourhood to strive for a better future.