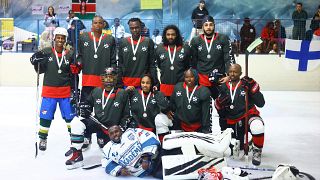 -
Copyright

Kenya Ice Lions
SCENES shines a spotlight on youth around the world that are breaking down barriers and creating change. The character-driven short films will inspire and amaze, as these young change-makers tell their remarkable stories.
Kenyans are renowned for their speed and endurance on the running track but are less known for their dominance on the ice. Benjamin Mburu is the captain of the country's national hockey team, the Kenya Ice Lions. He counts himself among the pioneers of ice hockey in Kenya, a sport steadily growing in popularity across Africa.
Benjamin's introduction to hockey came about in high school, where he played roller and street hockey with friends. "One day, the guys who were playing ice hockey called me up to the ice rink and told me to come to try. Since then, I have never looked back. I fell in love with the sport, and I love each and every moment of playing ice hockey," he says.
The Roaring Ice Lions
Central and East Africa's only ice rink is inside the Panari Hotel in Nairobi. The building is next to a national park, home to some of Africa's most well-known wildlife. The group decided to include the animals in their name as a mark of respect.
"The name of our team, The Kenya Ice Lions, originated from the famous lions of Africa and Kenya. So, it was an easy adaptation. The lions in the national park on ice," says Benjamin. "We have the lions, and we want to roar," he gleefully adds.
Starting from Scratch
Tim Colby, a 59-year Canadian expatriate, is the team's coach. He was initially hesitant to take on the responsibility, but the Kenyan players' excitement encouraged him to accept the challenge.
"At first, I warned against it because it's very complex and hard to do. There are people of all ages playing, and some come and go. This makes it hard to keep track of everything," says Tim. "One of the things that I'm responsible for is making sure that there's some organisation," he adds.
A Promising Future
Sports like ice hockey are predominantly played in countries with cold weather. Even though it is a winter sport, ice hockey has become one of the world's most popular and lucrative professional sports leagues. The Ice Lions were inspired to try ice hockey, even though it's not common in Africa.
"Kenya is on the equator. It's a tropical country," Tim tells Scenes, arguing that climate isn't the only factor in the spread of ice hockey among Kenyans. "But that shows the enthusiasm of the Kenyan players. The sport has a future here."
Coach Tim is pleased with the players' performance; some have even impressed professional athletes. "There's great potential at all levels. At the adult level, the players have really surprised people. Some North American (players) who've come here are very surprised with the skill level."
Equipment Issues
Ice hockey can be dangerous, and players must wear extensive protective equipment. "You need helmets, cages to protect the face and body armour," explains Coach Tim.
In Kenya, it is difficult to find ice hockey equipment, as no retail outlets specialise in the sport. "Skates can cost hundreds of dollars, and shipping is also very difficult. We mostly depend on donations, but it's still a lot to ship it into the country," says Benjamin.
The Olympic Dream
Hassan Ali Shah, one of the Kenya Ice Lions' senior players, dreams of seeing his team compete regionally and internationally.
"I want to see the Kenya Ice Lions playing with other countries in Africa. I want to see us going to the Olympics, representing the Kenyan flag. I will be so much proud," Hassan says. "For the kids (juniors), I will be proud and happy to see them drafted to the NHL. That's something that I believe. It's something that most of us want to see happening."
The Ice Lions' dreams of an African player being selected by the NHL one day could become a reality as the National Teams of Ice Hockey reports that five other African countries also play the sport: South Africa, Algeria, Morocco, Egypt and Tunisia. The players hope that Nairobi's Solar Ice Rink will inspire other districts across Kenya to open ice rinks and give ice hockey a go, even though their nation is not traditionally associated with the sport.