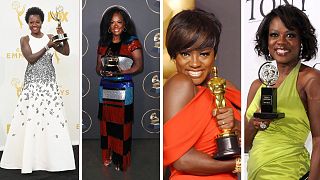 Beyoncé may have made history last night at the Grammys by becoming the most decorated Grammy artist ever, but someone else hit another major milestone…
Viola Davis has officially become the 18th person to win the rare and coveted EGOT.
The American actor, 57, won for her autobiography 'Finding Me' in the Best Audio Book, Narration, and Storytelling Recording category.
"I just EGOT!" announced the star on stage at the Grammys, thanking her family for being "the best chapter in my book".
"I wrote this book to honour the six-year-old Viola," she said. "To honour her life, her joy, her trauma, everything."
On Instagram, Davis wrote: "The 6 year old Viola is screaming!!!!! She is so excited at the 57 year old she will become."
What is an EGOT and who's got ticked all four boxes?
For those of you not in the know, an EGOT – term coined by actor Philip Michael Thomas – is the coveted title bestowed on anyone who wins the holy showbiz quaternity: Emmy, Grammy, Oscar and Tony Award.
Last night's win puts Viola Davis in an elite group of 18 who have achieved the honorary title. She is also the third Black woman in history to achieve EGOT status.
Davis won the Academy Award for Best Supporting Actress in 2017 for her role in 2016's Fences. She won an Emmy in 2015 for her role as Annalise Keating in How to Get Away with Murder, making her the first Black woman to win the lead drama actress award. She has two Tony awards, for King Hedley II (2001) and the Broadway production of Fences (2010).
Before Davis, the most recent EGOT winner was American singer and actor Jennifer Hudson, who in 2022 became the youngest person to claim the title at 40 years of age.
With her win for 'Finding Me', Davis joins the following list of people who have ticked all four boxes (with the year in which they achieved EGOT glory):
Richard Rodgers (1962)
Helen Hayes (1977)
Rita Moreno (1977)
John Gielgud (1991)
Audrey Hepburn (1994)
Marvin Hamlisch (1995)
Jonathan Tunick (1997)
Mel Brooks (2001)
Mike Nichols (2001)
Whoopi Goldberg (2002)
Scott Rudin (2012)
Robert Lopez (2014)
Andrew Lloyd Webber (2018)
Tim Rice (2018)
John Legend (2018)
Alan Menken (2020)
Jennifer Hudson (2022)
Viola Davis (2023)
It's worth nothing that five other performers – Barbra Streisand, Liza Minnelli, James Earl Jones, Harry Belafonte and Quincy Jones – have won all four awards, but received a non-competitive or honorary victory such as a Grammy Legend Award or an Honorary Oscar, and therefore don't make the official list.
Who else is on the cusp of EGOT status?
Quite a few performers are only one award shy of EGOT status.
Elton John is only missing an Emmy award, while singer Adele just needs a Tony award. 
Others missing out on EGOT because of a Tony-shaped hole on their awards cabinet are singer / actors Julie Andrews and Eminem, the last two remaining Beatles Paul McCartney and Ringo Starr, director Martin Scorsese, scoring duo Trent Reznor and Atticus Ross, and composers Ludwig Göransson and Hildur Guðnadóttir. We're betting that Kate Winslet could happily bag a Tony and join the EGOT club very soon – having already won an Emmy (Mildred Pierce – 2011), Grammy ('Listen to the Storyteller' – 2000) and Oscar (The Reader – 2009).
On the Grammy front, actors Frances McDormand, Jessica Lange, Helen Mirren, Maggie Smith and Al Pacino are missing out.
When it comes to the Oscars, Dick Van Dyke, Bette Midler and Cynthia Nixon all need a golden baldie in order to achieve EGOT. The ones we can see coming next are Hugh Jackman, who already has an Emmy (58th Annual Tony Awards – 2005), Grammy (The Greatest Showman – 2019) and Tony (The Boy From Oz – 2004), as well as Lin-Manuel Miranda, who needs an Oscar to complete his collection with his Emmy (67th Tony Awards – 2014), Grammy (In The Heights – 2009) and Tony (In The Heights – 2008).
As for former US president Barack Obama, he is officially halfway to an EGOT, with anEmmy last year (for his narration on Our Great National Parks) and two Grammys prior to that (for best spoken word album in 2006 for 'Dreams From My Father' and in 2008 for 'The Audacity of Hope: Thoughts on Reclaiming the American Dream').
What about PEGOT?
Just when you thought that EGOT was the absolute summit, there's PEGOT.
A PEGOT winner is someone who has achieved EGOT status as well as winning a Peabody Award (awards administered annually by the University of Georgia's Grady College of Journalism and Mass Communication in recognition of outstanding public service and achievement in electronic media) or a Pulitzer Prize.
Only five people have managed the feat: Barbra Streisand, Mike Nichols and Rita Moreno have all won a Peabody Award; while Richard Rodgers and Marvin Hamlisch both earned a Pulitzer Prize.
Again, we're rooting for Kate Winslet to nab a Peabody and add herself to this rarified elite.