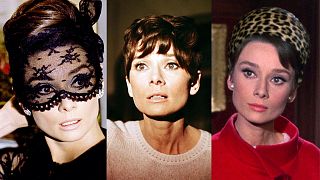 -
Copyright

20th Century Studios, Warner Bros., Universal
On the 30th anniversary of her death, here are three essential Audrey Hepburn films that may have passed you by.
We celebrate today the 30th anniversary of the death of one of the most iconic and talented actresses of all time: Audrey Hepburn.
As well as being ranked by the American Film Institute as the third-greatest female screen legend of Hollywood's Golden Age of cinema, the Belgium-born British actress was a fashion icon and a tireless humanitarian. You may not know that she helped the Dutch resistance during the war by secretly dancing for money and delivered messages to resistance members, as well as supporting UNICEF for 38 years.
Hepburn started her career in theatrical productions and skyrocketed to fame when she starred in Roman Holiday (1953 – for which she won her only Oscar) and Sabrina (1954). The 50s and 60s belonged to Hepburn and the films she starred in during these two decades remain enduring classics of the silver screen.
Best known for her roles as Princess Ann in William Wyler's Roman Holiday, Jo Stockton in Stanley Donen's Funny Face (1957), Eliza Doolittle in George Cukor's My Fair Lady (1964) and, of course, as Holly Golightly in Blake Edwards' Truman Capote adaptation Breakfast at Tiffany's (1961), her presence on screen became scarcer after 1967.
She decided to devote her life to the aid of marginalized communities. Her wartime experiences in Nazi-occupied Netherlands had an indelible effect on her and this sparked a lifelong devotion to humanitarian relief work. She went on several humanitarian missions and received the US Presidential Medal of Freedom, the US's highest civilian honor, in recognition of her work with UNICEF.
Hepburn only returned for four films between 1967 and her death on 20 January 1993, aged 63. Her final appearance was as a cameoing angel in Steven Spielberg's Always in 1989, which reminded viewers to what extent Hepburn could make any scene more radiant with just a simple glance, no matter how short the screen time.
On the anniversary of her death, we celebrate this enduring cultural icon by recommending three films which often get overshadowed by some of the illustrious titles mentioned above. 
It's a trio of essential films which show to what extent Audrey Hepburn was not only hugely versatile performer but also an incomparable screen legend.
Charade (1963)
This could very well be Hepburn's best film, one which many refer to as the greatest Hitchcock film Hitchcock never made.
Hepburn stars alongside Cary Grant in Stanley Donen's Charade, which follows glamorous American widow Regina Lampert (Hepburn) as she gets entangled in her husband's murder investigation. A charming stranger (Grant) helps her navigate the threat posed by her deceased husband's former "war buddies" (James Coburn, George Kennedy, and Ned Glass), who are hunting for one of cinema's best MacGuffins.
Equal parts comedy, romance, and suspenseful mystery, Charade boasts one of Hepburn's best performances: she delivers a terrific mix of intellect, beauty and resourcefulness, and never falls in the damsel in distress trap by remaining believable as a swooning (and constantly hungry) heroine and a modern woman who can outsmart all of her adversaries. Her comedic timing is excellent, and the way she delivers the witty banter between her and Grant's name-changing character is to die for.
From their first interactions to her playful delivery of one of the best on screen flirting lines ("Do you know what's wrong with you?" / "No, what?" / "Nothing!"), Hepburn makes this pairing with Grant one of the best on-screen couples ever.
Oh, and her outfits have never looked better than in this Paris-set masterpiece. Not that you'll notice on the first watch. You'll be too busy being thrilled you've found your new favourite film.
How To Steal A Million (1966)
This hilarious and irreverent heist comedy follows Nicole Bonnet's (Hepburn) attempts to keep her art forger father (Hugh Griffith) out of jail. As one of his fakes is about to be discovered, she needs to plan a high-stakes robbery to save her father from arrest - all with the help of who she thinks is a debonair art thief (Peter O'Toole).
How To Steal A Million doesn't reach the heights of Charade (few films in Hepburn's filmography do) but this is one of those films where you can tell everyone was having a blast.
The dialogue is whip-smart, that car sequence is ridiculous, the chemistry between Hepburn and O'Toole is off the charts, and Hepburn once again shows her playful side, merging perfect comedic timing and effortless charm.
And if that's not enough to convince you to watch this delightfully entertaining adventure, those stylish Givenchy outfits Hepburn wears to absolute perfection will.
Wait Until Dark (1967)
Wait Until Dark is something of an anomaly in Hepburn's catalog, as she rarely starred in dark suspense thrillers.
She made an exception for director Terence Young (best known for directing the first two James Bond films Dr. No and From Russia With Love), who delivered an oppressive adaptation of Frederick Knott's stage hit. 
The thrillingly tense horror-thriller earned Hepburn her fifth (and final) Oscar nomination for her powerhouse performance as Susy, a recently blinded woman attempting to survive when a trio of thugs (Richard Crenna, Jack Weston and a young Alan Arkin) terrorize her. They believe that there's a doll stuffed with heroin in her apartment and will stop at nothing in order to retrieve it. It's up to Susy to outwit all three.
Determined to step outside of her usual wheelhouse and show casting directors that she was not just a pretty face, the actress prepared at the Lighthouse for the Blind in New York and even took lessons in Braille for the role. It paid off, as the end result is a nail-biting home invasion film with an unbearably tense third act that presents how deftly Hepburn could juggle vulnerability and fearless determination like no other.
Shame about missing out on the second Oscar though. Funnily enough, however, she lost it to Katherine Hepburn for Guess Who's Coming to Dinner. No relation between the two.