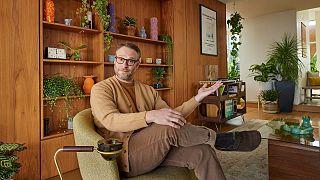 -
Copyright

Photo: Yuri Hasegawa/Hogwash Studios
Have you ever dreamed about joining Seth Rogen at a luxurious home in the hills of Los Angeles, for a night of weed smoking, ceramic-fuelled creativity, laughter, and artistic revelation? 
Well now you might actually be able to! 
Rogen's weed company Houseplant has teamed up with Airbnb to offer a handful of lucky guests a stay in a spectacular mid-century Los Angeles home, filled with original ceramics made by the comedic genius himself. 
And if you're lucky enough to get a reservation, it'll only cost you $42 (€39). 
A promotional video advertising the one-night stays shows the actor and design enthusiast moulding clay on a potter's wheel and dancing to music from a vinyl record player, while pointing out the floor to ceiling windows, outdoor swimming pool, and hilltop views over the city. 
According to the listing, the home even has a collection of Houseplant record sets with specially curated tracklists by Seth Rogen & Evan Goldberg, which are inspired by different cannabis strains. 
Looks like Rogen and Airbnb are putting their own spin on the term "joint" venture. 
"I don't know what's more of a Houseplant vibe than a creative retreat at a mid-century Airbnb filled with our Housegoods, a pottery wheel and incredible views of LA," Rogen said in statement.
"Add me, and you'll have the ultimate experience."
Rogen is hosting three, one-night stays on 15, 16 and 17 February for two guests each. The actor, filmmaker and pottery enthusiast promises to join paying guests for part of the evening, to offer laughs and some pottery pointers. 
Sadly, the Airbnb is only available for US residents. 
Booking requests open from 7 February at 10 am PT.
Living like an A-lister
It's not the first time that Airbnb has offered its users a chance to live like stars. 
Just recently, fans of the popular TV show White Lotus were given the opportunity to rent the luxurious Sicilian palazzo featured in season two. 
And who could forget when rapper and producer DJ Khaled offered his fans the chance to spend a night in his extravagant shoe closet last year. 
Check out the video above to see what could be in store for lucky bookers.