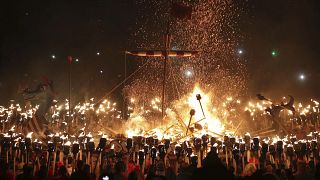 -
Copyright

Andrew Milligan/AP
Thousands of people are converging in Shetland, Scotland, for Lerwick's iconic Up Helly Aa festival. It is Europe's largest fire festival, and this year, for the first time in its 142-year history, women and girls will participate in the procession squads. 
The Lerwick Up Helly Aa Committee lifted the long-standing rule of male-only participants last year, with the aim of revitalising the event after a two-year hiatus due to the Covid-19 pandemic.
While women have traditionally been restricted to less significant roles in the festival, such as hostesses who take charge of organising the town parties, they can now take part in the Viking squads. 
The procession is already underway and the Lerwick community are eagerly awaiting the galley burning later tonight. 
What is the Up Helly Aa festival?
The spectacular Up Helly Aa Festival is a yearly celebration held in the Shetland Islands of Scotland, marking the rich and vibrant Viking heritage of the region. The festival has been a staple of Shetland's cultural landscape for over 140 years and is renowned for its lively and captivating displays of history, tradition, and pride.
The highlight of the festival is the parade of thousands of people who dress up traditional Viking attire, carrying flaming torches through the streets. 
They are led by a large squad of Vikings, known as the Jarl Squad, who in turn are led by the Guizer Jarl, or Chief Guizer, who is elected by a committee each year.
The procession heads down towards the sea, where participants throw their flaming torches into a specially-built Viking longboat, otherwise known as a galley. 
Considered to be Europe's largest fire festival, the tradition started in the 19th century as a way to mark the end of the yule season. It's also a testament to Shetland's Viking past which has long been a source of pride for the local community.
44-year-old Neil Moncrieff, who has been on Lerwick's Up Helly Aa commute for 15 years, was elected as this year's Guizar Jarl. 
"Up Helly Aa means so much for Lerwick and Shetland. It celebrates our historic Norse links and you see just how many people around the town are looking forward to it," said Moncrieff in a recent interview. 
To learn more about the Up Helly Aa festival check out the video above.