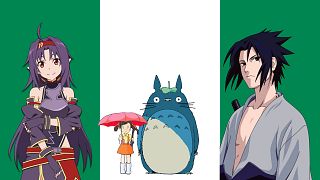 -
Anime culture is thriving in Nigeria. 
Just recently Nigeria's second ever anime festival (Èkó Anime Fest) took place in the country's commercial capital, Lagos, which saw almost 1,000 fans from across the continent gather to show their appreciation for the Japanese art form.
Many of the fans in attendance at the Èkó Anime Festival, one of the few anime conventions in Africa, dressed up as their favourite characters from various tv shows, films and video games. 
Co-organiser of the event, Laura Ajayi explains that there were no conventions or festivals for anime lovers in Nigeria, so they decided to set up their own. 
"We thought why don't we start this because we have a whole community of otakus, weebs, even people that just want to dip their feet into the anime pool and so we thought why don't we just do this, everybody comes together and you know have fun and it works."
The popularity of anime in Nigeria can be traced back to the late 80s and 90s, when the cartoon Voltron: The Defender of the Universe was aired on NTA 2 Channel 5, introducing the West African country to the genre
Furthermore, the early 2000s saw the airing of Samurai X on TV Africa, which also helped to establish an anime subculture among Nigerians. 
What is anime and how has it become so popular all around the world?
Anime is a type of animation that was created in Japan in the early 20th century. It's characterised by its distinctive art style, which features large eyes, colourful hair, and exaggerated expressions.
Its known for its wide range of genres, from action-packed adventures to heartwarming romances. There's something for everyone, whether you're a fan of robots, ninja warriors, or giant, bus-shaped cats.
Anime began to gain popularity in Japan in the 1950s and 1960s, with shows like "Astro Boy" and "Tetsujin 28-go" being broadcast on television. In the 1980s and 1990s, anime began to be more widely available in the West and gained international recognition, through the distribution of VHS tapes and later, DVD.
Nowadays anime has exploded in popularity all over the world due to the internet and the rise of online streaming services like Crunchyroll, Funimation and Netflix. Social media has also enabled anime fans to connect and share their love for different shows and film with others, creating a passionate global fan community. 
And thus, anime culture was born.
If you're looking to get into anime we recommend starting with one of anime's many popular series, including One Piece, Attack on Titan or Naruto. 
And if you're not a big fan of TV series, definitely try out any of the films from Studio Ghibli's incredible catalogue, such as Spirited Away or Princess Mononoke. 
*Check out the video above to see some of the best dressed best cosplayers at ÈkóAnime Festival 2023.*