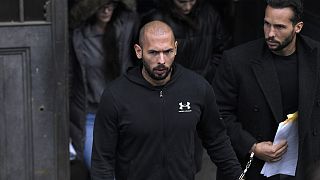 Copyright

AP Photo/Alexandru Dobre
-
By Euronews with Reuters, AP
A Romanian court upheld on Tuesday the 30-day arrest order against Andrew Tate, an internet personality notorious for hate speech, for alleged human trafficking and formation of an organised crime group to exploit six women.
Ramona Bolla, a spokesperson for Romanian anti-organized crime agency DIICOT, said the court rejected an appeal by Tate against a judge's earlier decision to extend his arrest from 24 hours to 30 days.
Tate, his brother Tristan and two Romanian female suspects were detained by Romanian anti-organised crime prosecutors at the end of December pending a criminal investigation. They have denied wrongdoing through an attorney and have challenged the arrest warrant.
The court late Tuesday rejected all four appeals against a judge's 30 December decision to grant prosecutors' request to extend the arrest period. 
A document explaining the judge's reasoning said "the possibility of them evading investigations cannot be ignored" and that they could "leave Romania and settle in countries that do not allow extradition".
Prosecutors have said the Tate brothers recruited their victims by seducing them and falsely claiming to want a relationship.
The victims were then taken to properties on the outskirts of capital Bucharest and through physical violence and mental intimidation were sexually exploited by being forced to produce pornographic content for social media sites which generated large financial gains, according to prosecutors.
Prosecutors also said one of the brothers raped one of the victims in March of last year, which is when the investigation started.
"The possibility that the suspects would evade investigation, leave Romania and settle in countries that do not allow extradition given their financial possibilities and public comments to that regard cannot be ignored," the court judge said in the written record approving the arrest.
Prosecutors have seized 15 luxury vehicles and over 10 properties and homes belonging to the suspects in Bucharest and Prahova and Brasov counties, Bolla told Reuters earlier on Tuesday.
The seizure was meant to prevent the assets from being sold or concealed.
Should the court uphold the arrest warrant and the investigation need more time, prosecutors can seek approval for further extensions of up to 180 days of detention under Romanian law.
'Hope not Tate'
Tate gained mainstream notoriety for misogynistic remarks and hate speech, which got him banned from all major social media platforms. However, since Elon Musk took over Twitter, his account was reinstated in November.
The former professional kickboxer, who holds US and British nationality, has said women are partially responsible for being raped and that they belong to men. He is a self-professed misogynist.
On a podcast last year, he said he started making money by convincing multiple girlfriends to videochat and share the profits back when he lived in London.
"How can I use these women to make me money?" Tate said, adding his business started with two girlfriends and peaked with 75 women working for him and earning $600,000 (€559,000) per month.
He has also said he moved to Romania after being investigated in the United Kingdom on charges of sexual assault, which were ultimately dropped, because he liked living in countries where corruption was accessible to everybody.
Since Tate's arrest, a series of ambiguous posts have appeared on his Twitter account. 
Each tweet garnered widespread media attention, including claims that "The Matrix" -- a conspiracist moniker Tate uses for authorities -- has "attacked" both him and his brother. 
The Tate brothers duo claim they have underlying medical conditions.
Hope not Hate, a UK advocacy group, said it monitored Tate for years "because of his close links to the far right." It described the influencer in a report it produced last year as an "extreme misogynist" who holds conspiratorial views.
"Our major concern is that his brand of extreme and sometimes violent misogyny is reaching a young male audience and that he could serve as a gateway to wider far-right politics," Hope not Hate said in a statement after Tate was banned by Facebook parent company Meta in August.